Ellenborough Park Wedding Photographer in Cheltenham
Matt and Paul are huge horse racing fans, I joined them as their Ellenborough Park wedding photographer at this prestigious venue nestled between the highest point of the Cotswolds and the gallops of Cheltenham Racecourse. I knew it was the ideal location for this personal and touching wedding with an absolutely epic soundtrack – the perfect recipe for some award winning wedding photographs!
Ellenborough Park Wedding Photographer
I arrived the night before the wedding, Matt and Paul had kindly put me up in a beautiful room at Ellenborough Park. After a good night's sleep, I was due to start shooting later in the day – a post on Facebook caught my eye. Matt had surprised Paul with a helicopter ride over Cheltenham Racecourse and they were already in the air, so I grabbed my camera and dashed off to meet them. I was an Ellenborough Park wedding photographer on a mission! The lovely venue staff took me to the helicopter landing site in their Land Rover and I was there waiting for Matt and Paul to capture some beautiful moments of them arriving back from their trip.
I then headed to breakfast where I got to meet and say hi to some of the guests I'd be sharing the day with – It was great to be able to get to know everyone over coffee and croissants and fuel up ahead of this mammoth celebration! This couple love their music and they were joined for the day by Elegant Entertainment (now called @luxurylivemusic), a group of Uber talented musicians and singers who provided the bespoke soundtrack to the day. As Matt and Paul started preparation in their room the music began, their Gieves and Hawkes jackets and waistcoats with colourful personalised linings really caught my eye. After all everyone needs a flamingo on their wedding day!
Friends and family members stopped by to wish them luck with plenty of hugs and kisses and a few happy tears, gifts were on their dressing table in the signature aqua blue packaging of Tiffany & Co. I got to know Matt and Paul through their friends Tony and Adam, who's wedding at The Shard in London I had photographed a year before. Tony and Adam arrived to wish the boys luck and surprised them with the most incredible gift of a holiday to Las Vegas, it was a real shock for both of them and there were lots more tears and hugs.
As we were getting ready to head towards the ceremony, we rescued a butterfly from the room, so obviously it got its own portrait! Blossom trees lined the path as they made their way out past the pool towards the beautiful ceremony room, taking a few deep breaths before the big I DO!
Every space in the room, even the top gallery was full of friends and family welcoming the couple, including my good friend Kate, it lovely to see her again! As we watched Matt and Paul exchange rings, we listened to some heartfelt words they had written for each other – everyone shed a tear (including me… again!)
A huge machine threw blossom into the air to celebrate their marriage and it was time for a surprise from @luxurylivemusic who had hidden singers among the guests, they started to get up and sing and Matt and Paul danced their way back down the aisle, truly awesome!
Ellenborough Park Wedding Reception
The champagne reception for their guests on the lawn of this Ellenborough Park Wedding was again accompanied with fantastic music and singing. We captured some group portraits before the Wedding Breakfast and the most heartfelt and touching speeches, all punctuated with stunning music including a rendition of defying gravity from the show Wicked which had everyone, including me, in tears.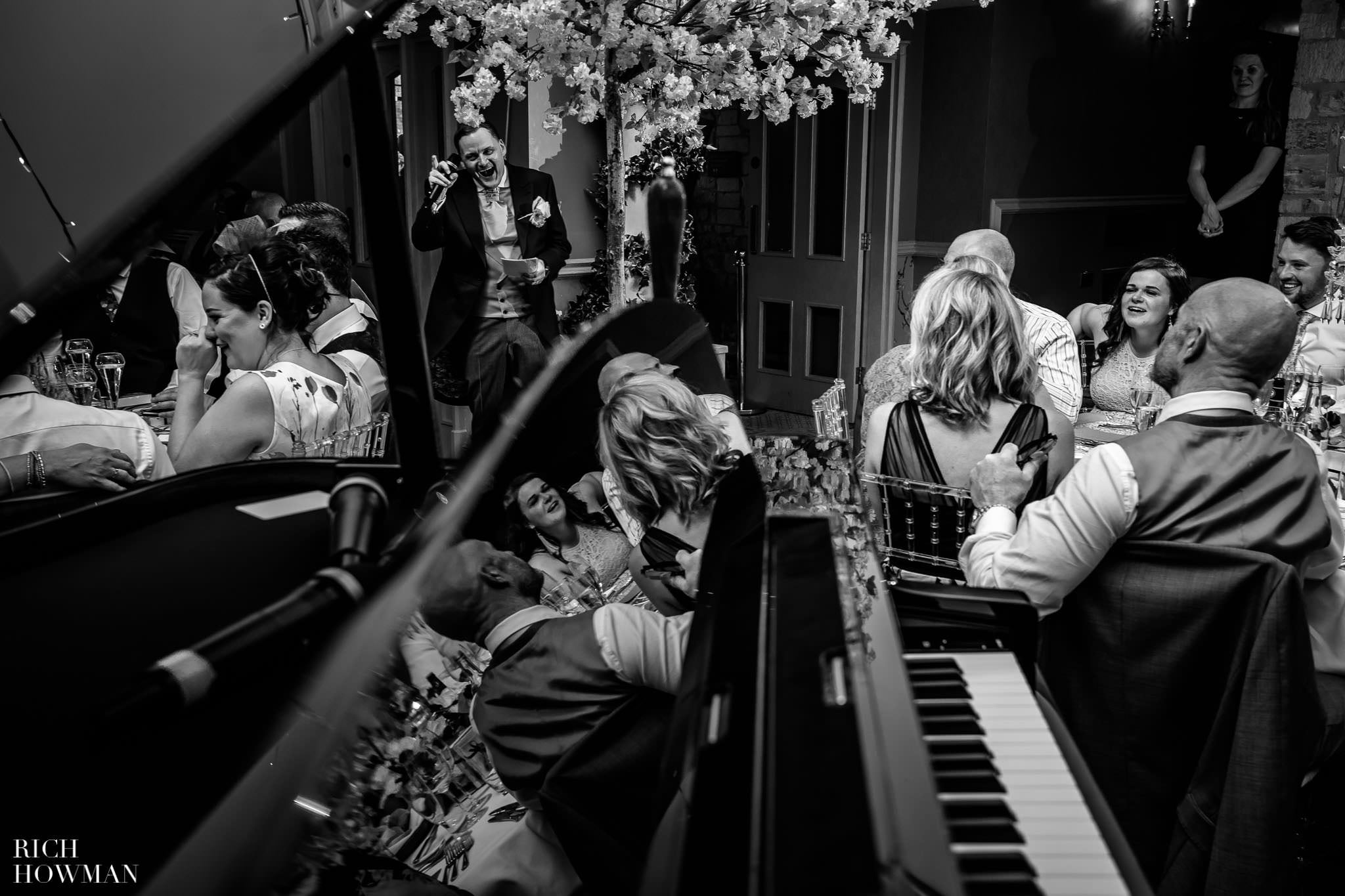 After cutting the cake, we snuck away to capture some sunset portraits of Matt and Paul around Ellenborough Park before their evening reception, the impressive equestrian sculpture in the grounds also made a guest appearance in their portraits.
With a black-tie theme, the evening of this Ellenborough Park Wedding kicked off with singers in the gallery of the Main Hall at Ellenborough Park making the most of the incredible acoustics. @luxurylivemusic really brought their A-game for this one! The first dance and more emotional moments followed with a party into the early hours of the morning, finished up with a G&T in the bar with a singer and acoustic guitarist to start their first day as a married couple.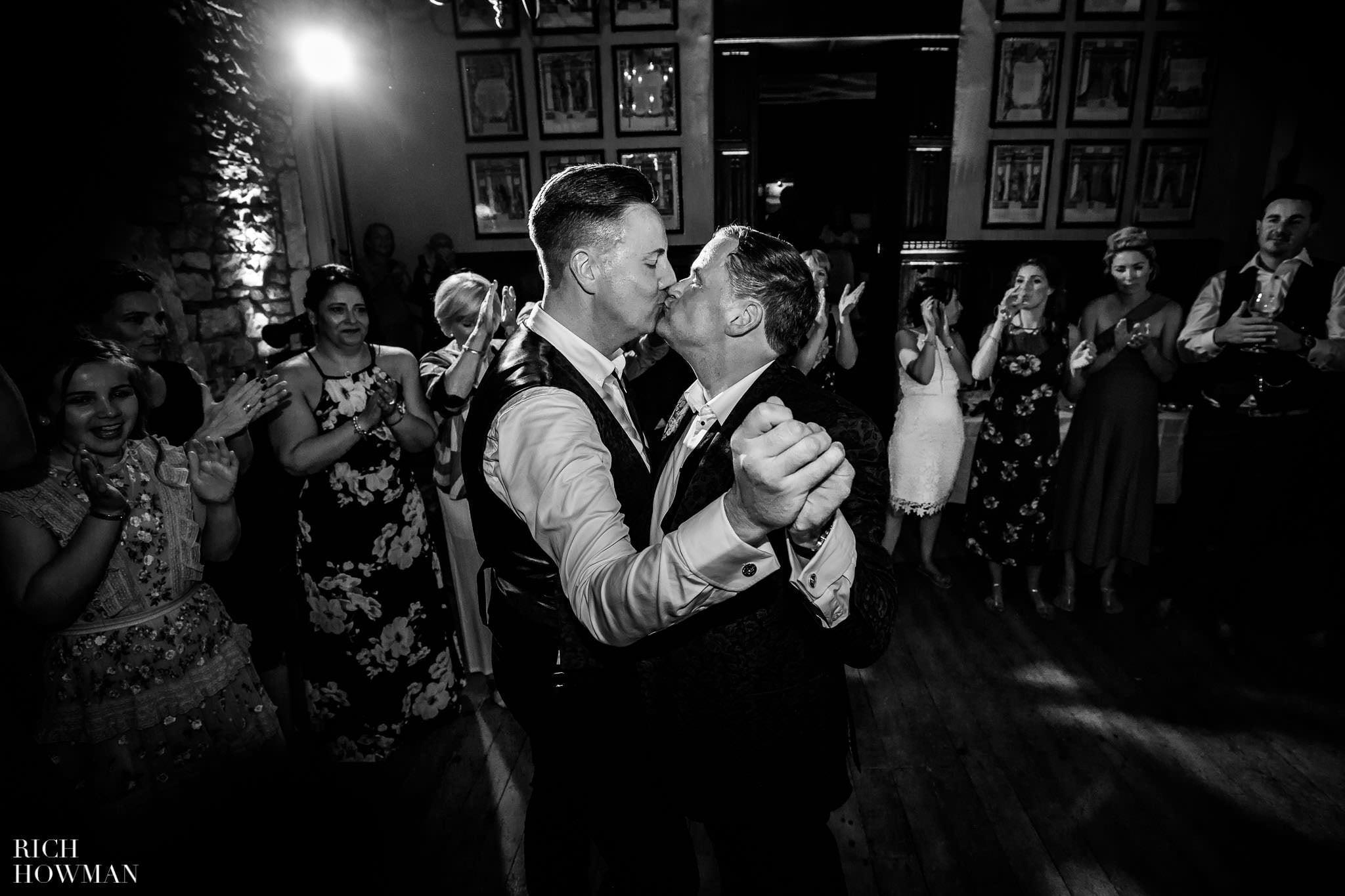 Matt and Paul definitely put on a party to remember at this luxurious venue. I was so touched to be chosen to capture their day and experience the love and emotion of their friends and family and the beautiful bond between these two gorgeous humans.
A special thank you to the truly amazing people at Elegant Entertainment, now @luxurylivemusic for collaborating on the specially recorded sound track accompanying their highlights. Enjoy!