Headland Hotel Wedding Photographer in Newquay
Headland Hotel Wedding Photographer on the Atlantic Coast of Cornwall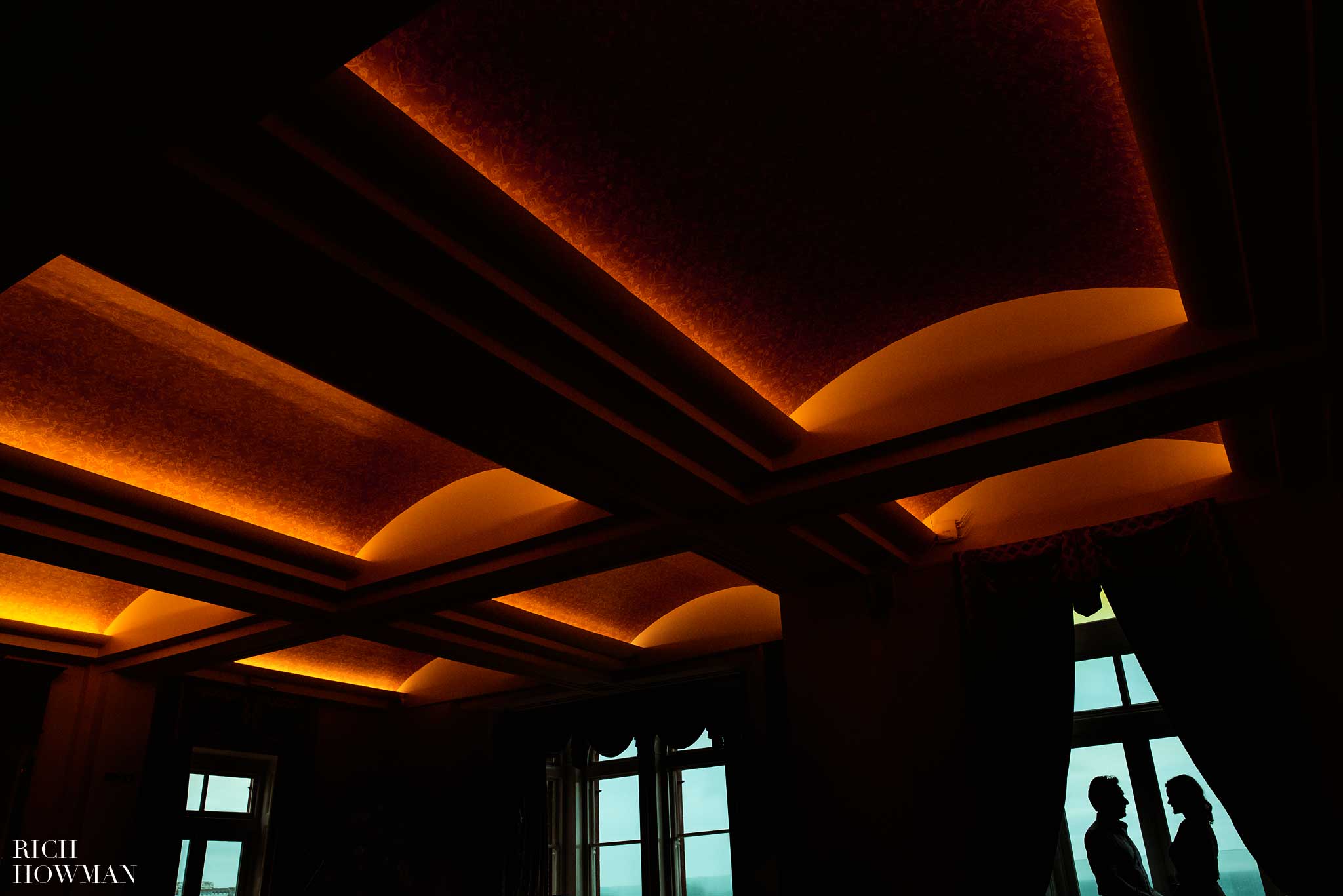 Photos by Headland Hotel Wedding Photographer, Rich Howman. When Helen and Alex decided to get married, their initial plan was to elope, just the two of them (well, the three of us!), and tie the knot together. However, as a couple who have spent so much time apart from each other and from their families due to the global travel demands of work, they decided instead to gather their loved ones together for an intimate family wedding on the Cornish coast. I joined them for their special day as their Headland Hotel Wedding Photographer, a fabulous Newquay venue, which on the day overlooked a particularly blustery, changeable day and wild, rolling Atlantic Ocean – perfect Cornish surfing weather!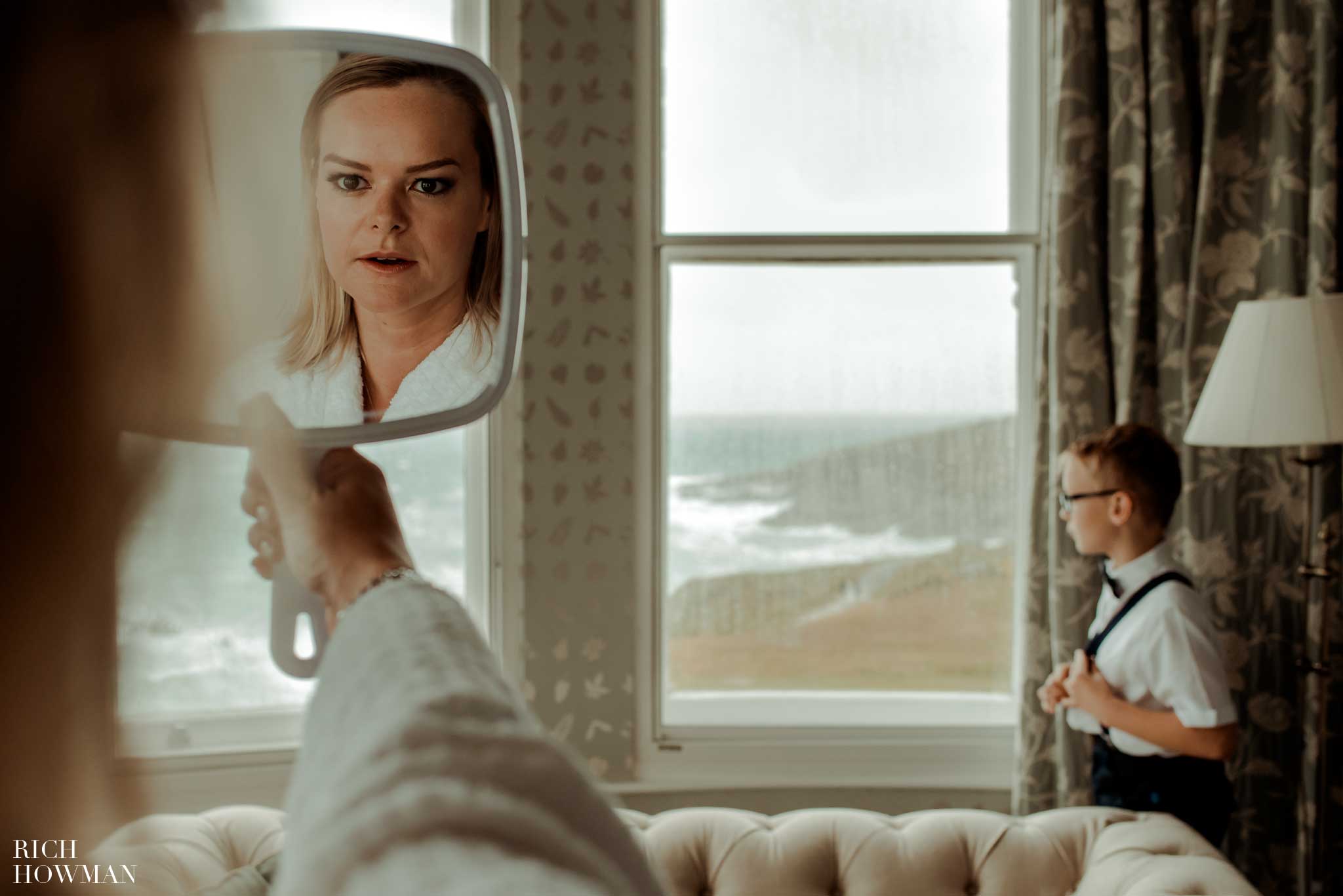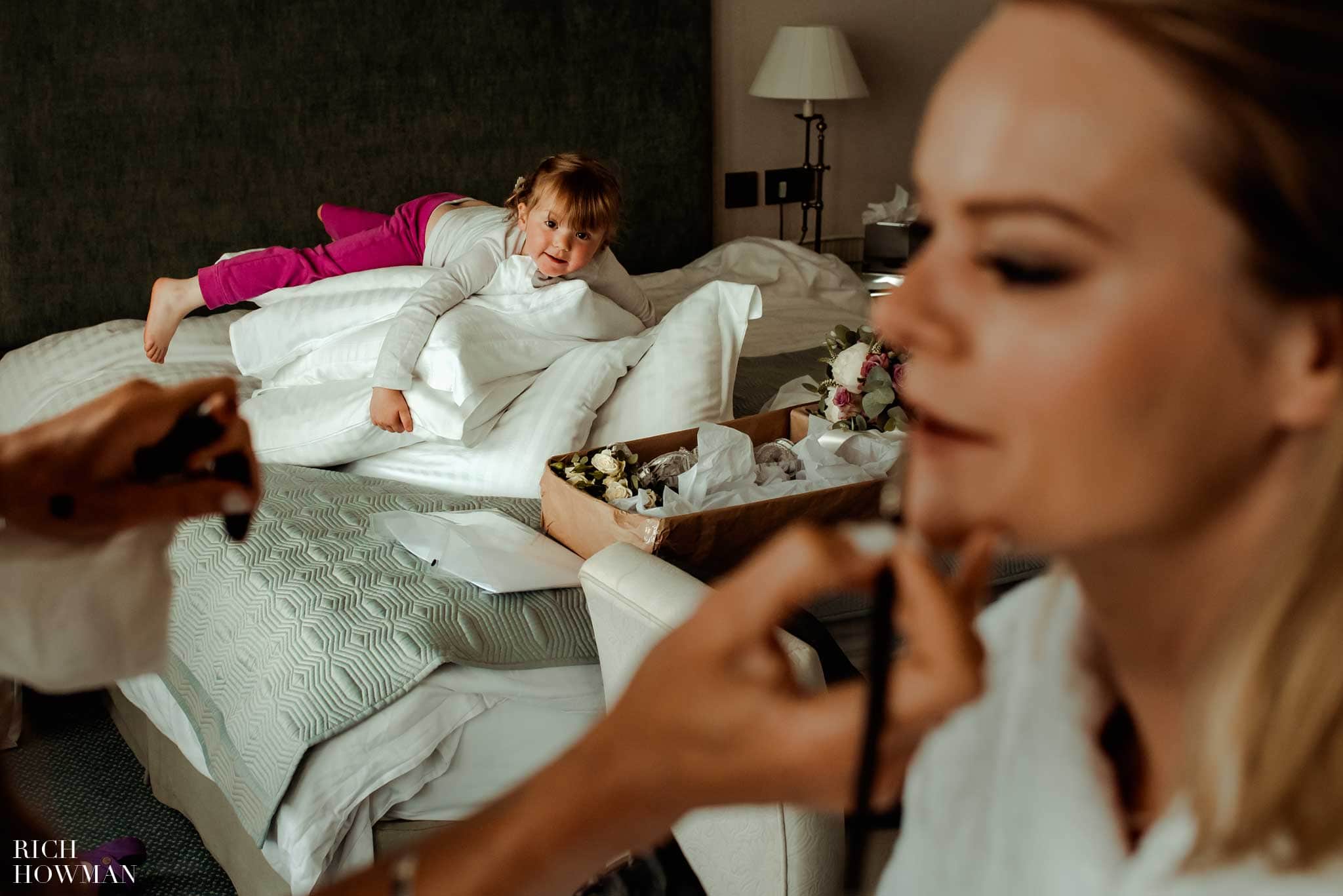 Helen and Alex are such a lovely couple – friendly, funny and so warm and welcoming. Helen prepared for the day ahead in a lovely suite overlooking the incredible Atlantic coast with her brother and sisters, including of course "combat" bridesmaid! After a few glasses of fizz for those old enough to partake, the beautiful bride and the wedding party made their way down to where the other guests, and of course the groom, were waiting. Their beloved dog Branston is such an important part of their lives that it was only to be expected that he would join the party too, having been chilling out behind Reception with The Headland Hotel staff in readiness for the day.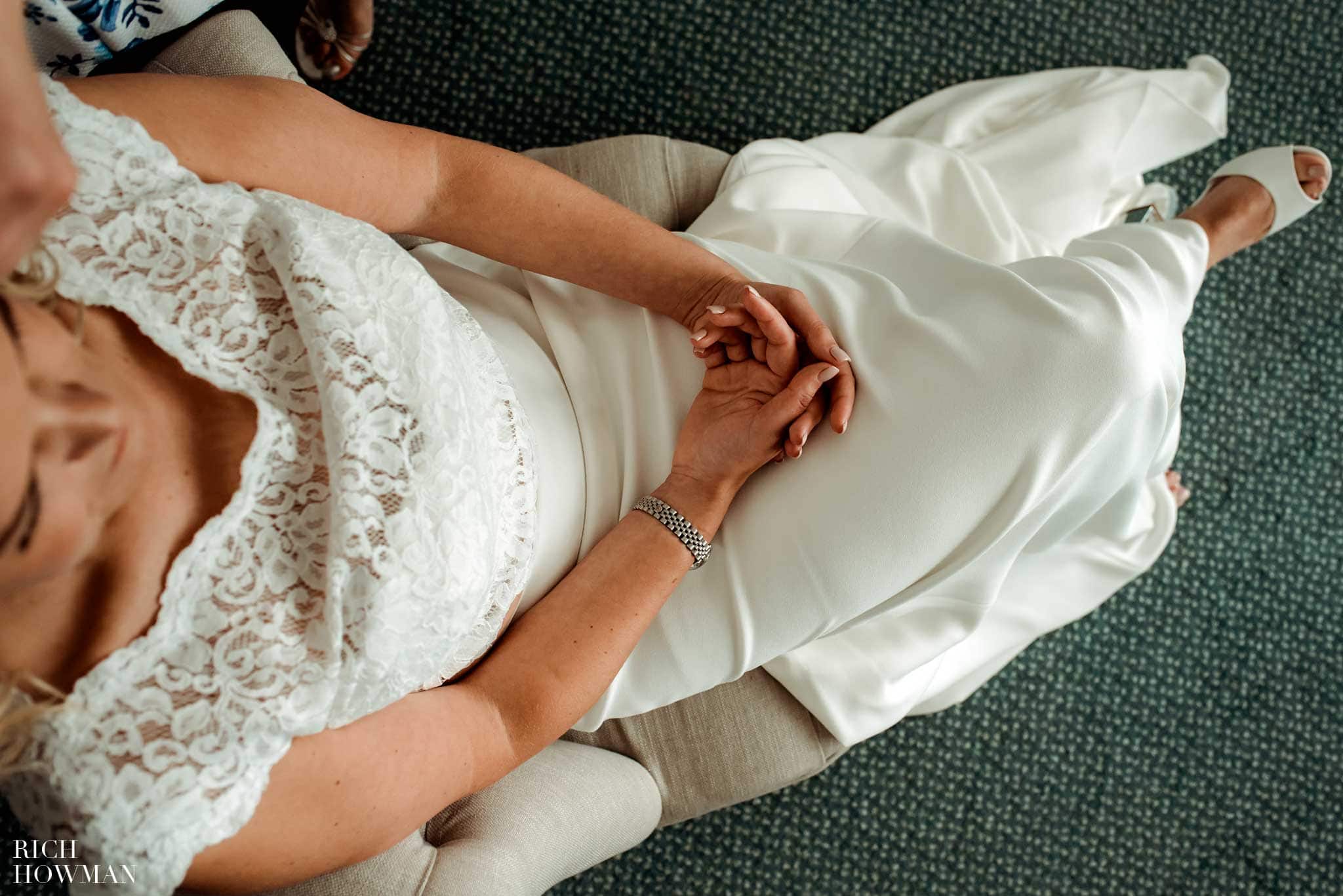 Their Headland Hotel Wedding Ceremony
The ceremony was simple and elegant, a really intimate family wedding full of love and romance. Helen's little brother did a sterling job as the ring bearer, looking incredibly dapper in his braces and bow tie. Following the marriage service and spotting a break in the weather, we all ventured outside for some group shots. This was the outstanding moment of the day for me – everyone was up for heading outside, despite the imminent threat of downpours, so we headed for the sand dunes at the back of the hotel. Stepping outside the cocoon of the hotel, we were all buffeted by gusts of wind almost strong enough to take our breath away, as well as icy drops of rain and seawater in the air.
Bolstered by the euphoria of the wedding, no one seemed to mind too much being pummelled by the weather! We captured some brilliantly memorable photographs of the whole party as well as fantastic couple shots of Helen and Alex against the majestic backdrop of the Atlantic coast. Surely no one could yearn for a calm summer's day, when the atmospheric Cornish weather helped to make Helen and Alex's day so much fun and so unforgettable.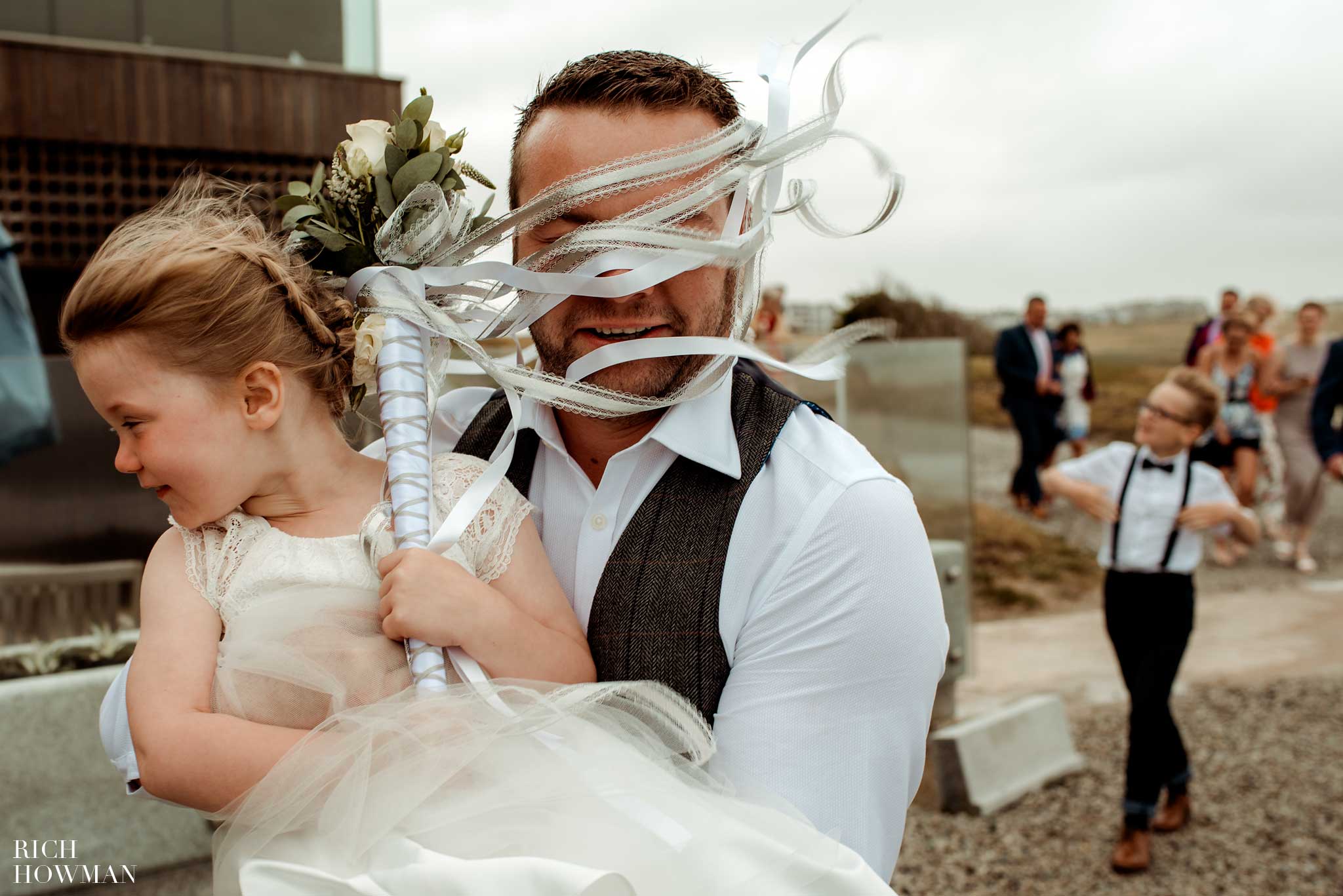 Back inside The Headland Hotel and recovering from the wild weather, the whole party had time for a wonderful family catch-up over drinks and canapés. Helen and Alex's adorable little flower girl amused herself by playing with my prism and looking for rainbows! I felt completely welcomed into the family, really sharing the day with them. Before the wedding breakfast, we were treated to some very heartfelt speeches, with a particularly funny one by Helen's Dad.
Special mention must be made of The Headland Hotel staff, who were brilliant throughout the day, and particularly helpful when I spied a shot I had to get. Wanting to make use of The Headland's refined interior, I was desperate to position myself alongside a rather stylish chandelier to capture the happy couple from above. Hotel staff found a stepladder and held it firm while I faced my fear of heights to clamber more than a floor upwards and take the picture. I love the result, definitely worth the heart-thumping climb! Thank you, superb staff of The Headland Hotel.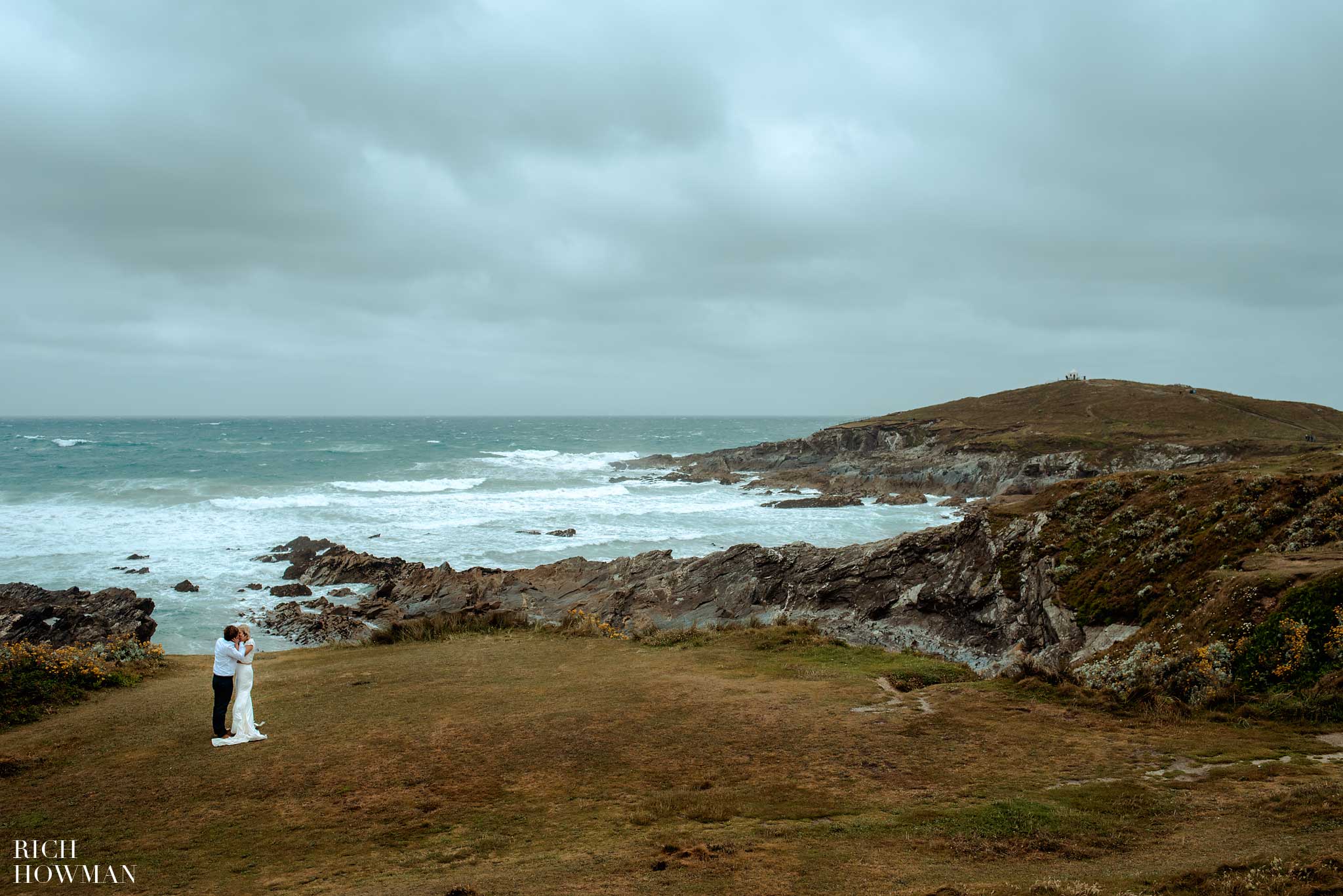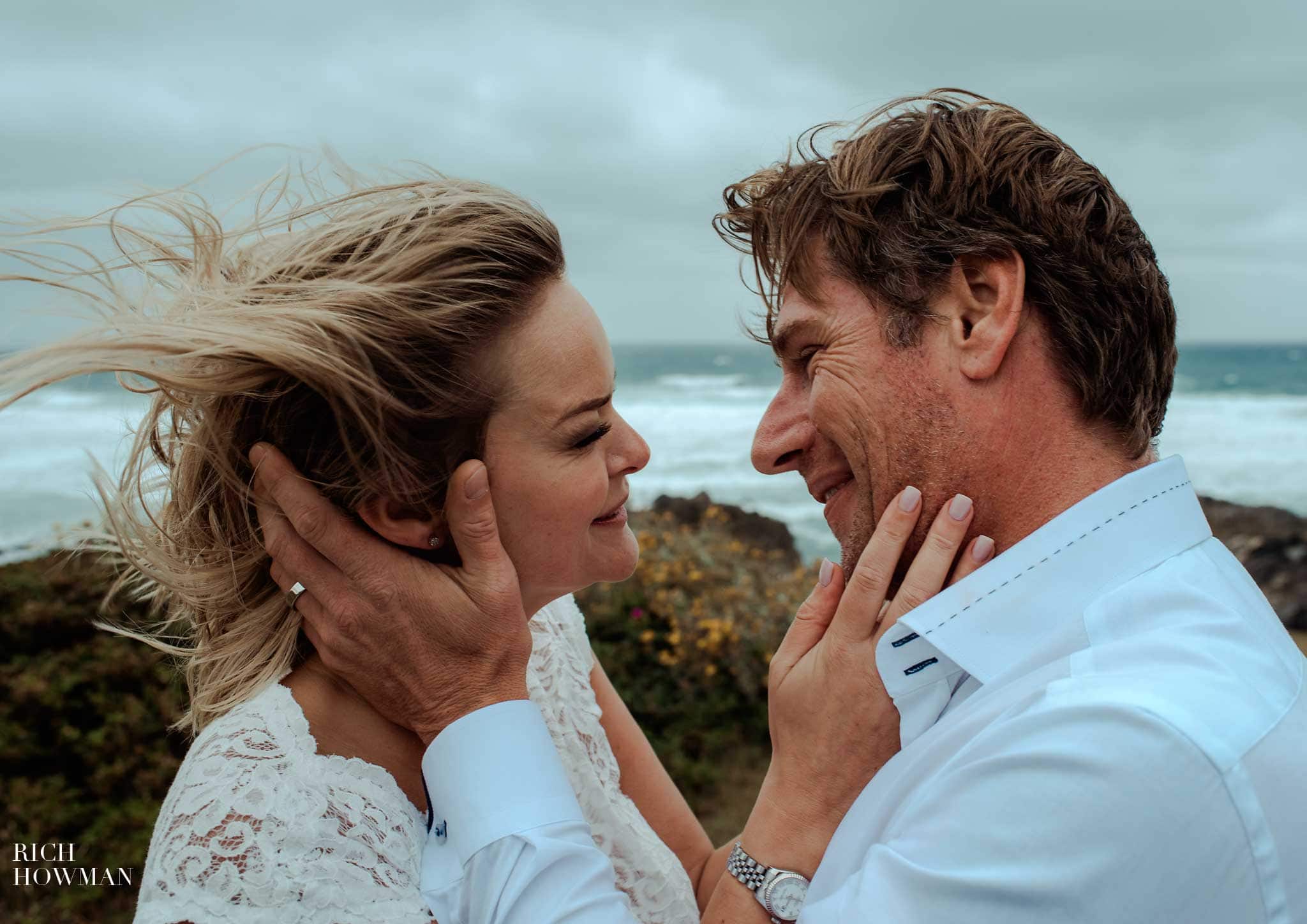 Wedding Photographer in Newquay
Later in the day, I'm pleased to say that the wind dropped long enough for another foray outside as Helen threw her bouquet with stunning Fistral Beach in the background. Fortunately the bouquet made its way to the guests' waiting hands and wasn't blown off course and into the sea! By pure chance, Bobbie Gillespie & Darrin Mooney from the band Primal Scream, who were in the area for a festival, happened to be passing by, and popped by for a quick photo with the wedding party – just another great moment which will I'm sure Helen and Alex will remember for many years to come.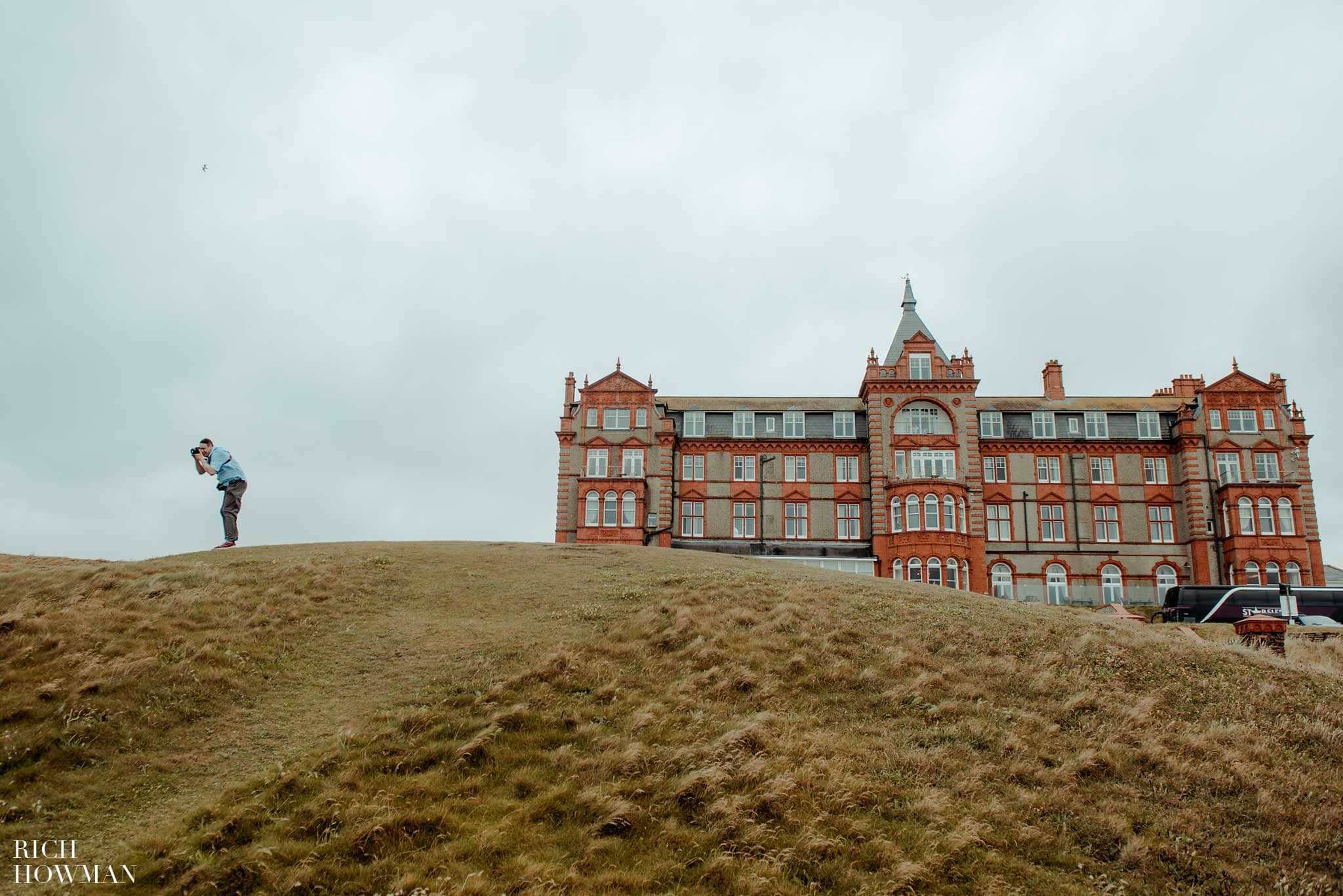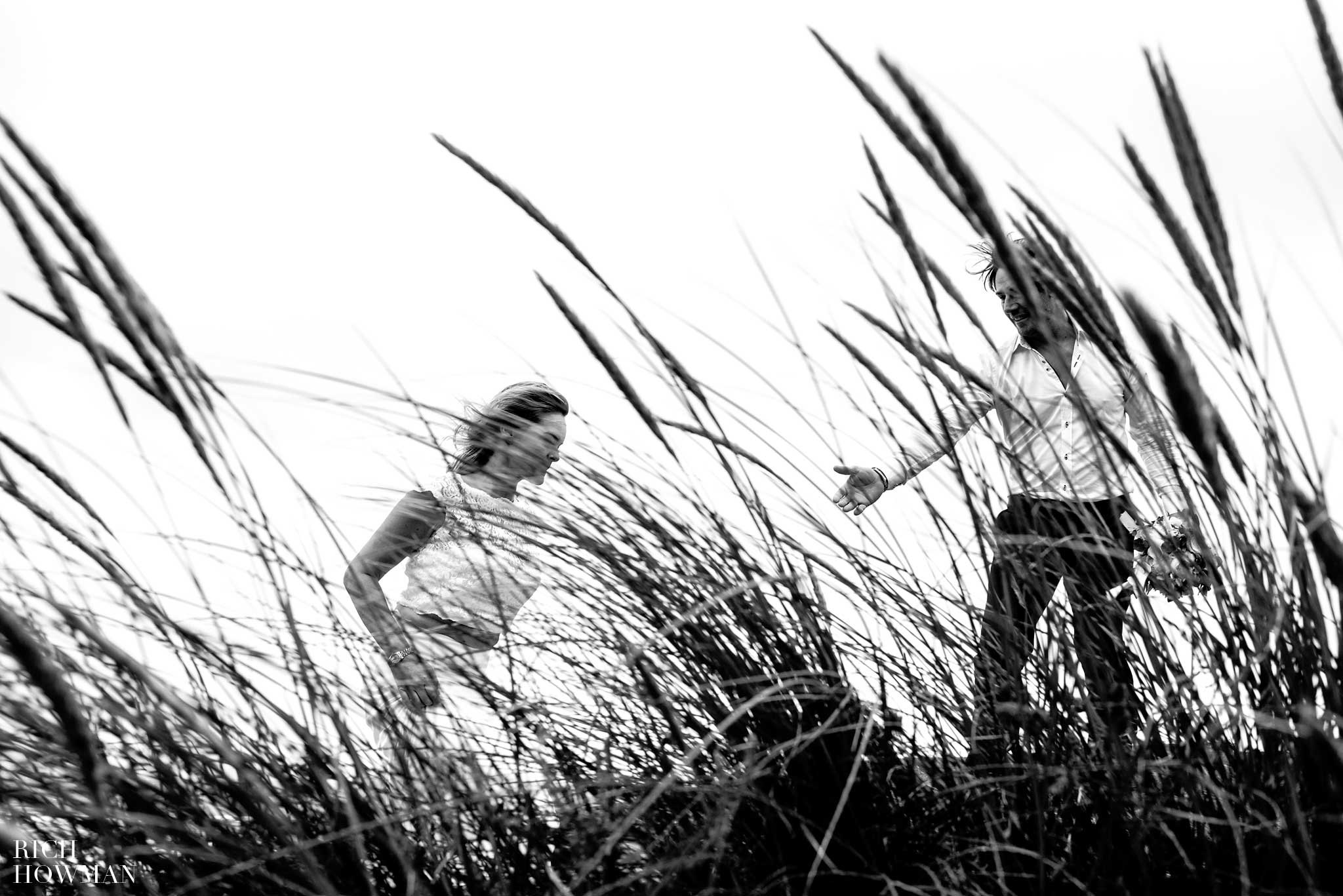 So from a planned elopement, Helen and Alex's wedding day was transformed into a delightful, intimate family gathering, with the turbulent June weather providing some great moments and ensuring that the day was even more memorable. I was delighted to share Helen and Alex's very special day and it was a priviledge being their Headland Hotel Wedding Photographer. I wish them a splendid married life together.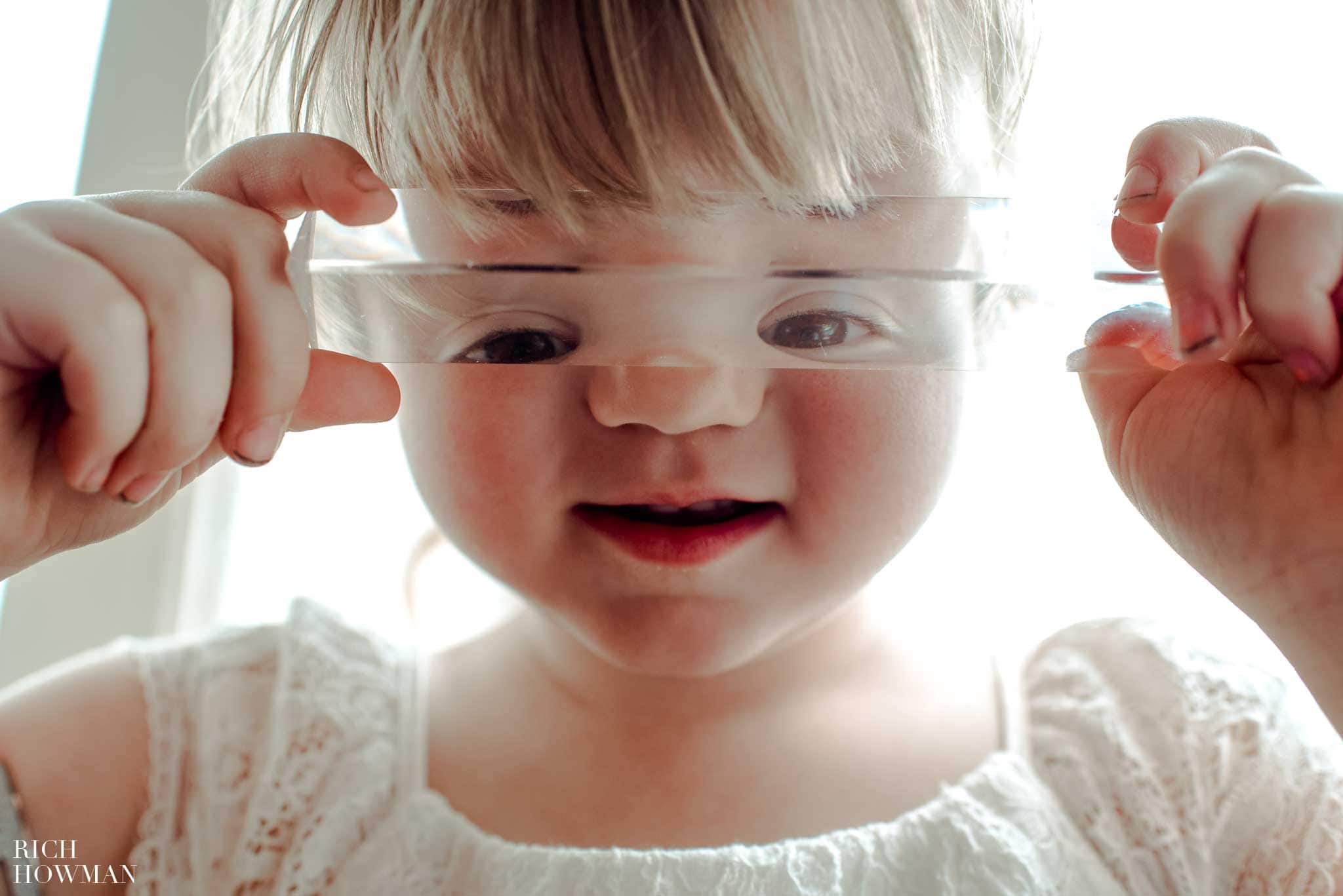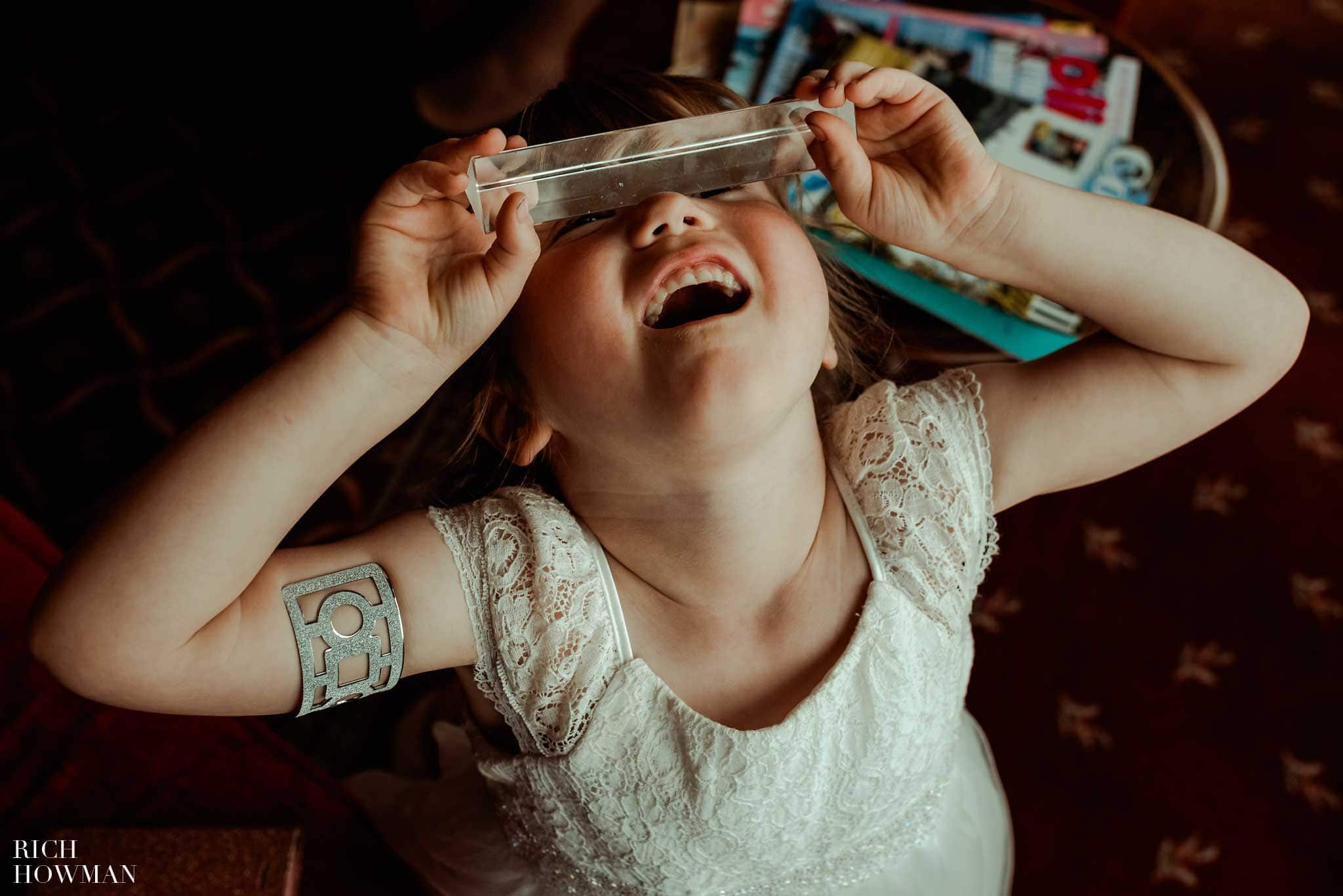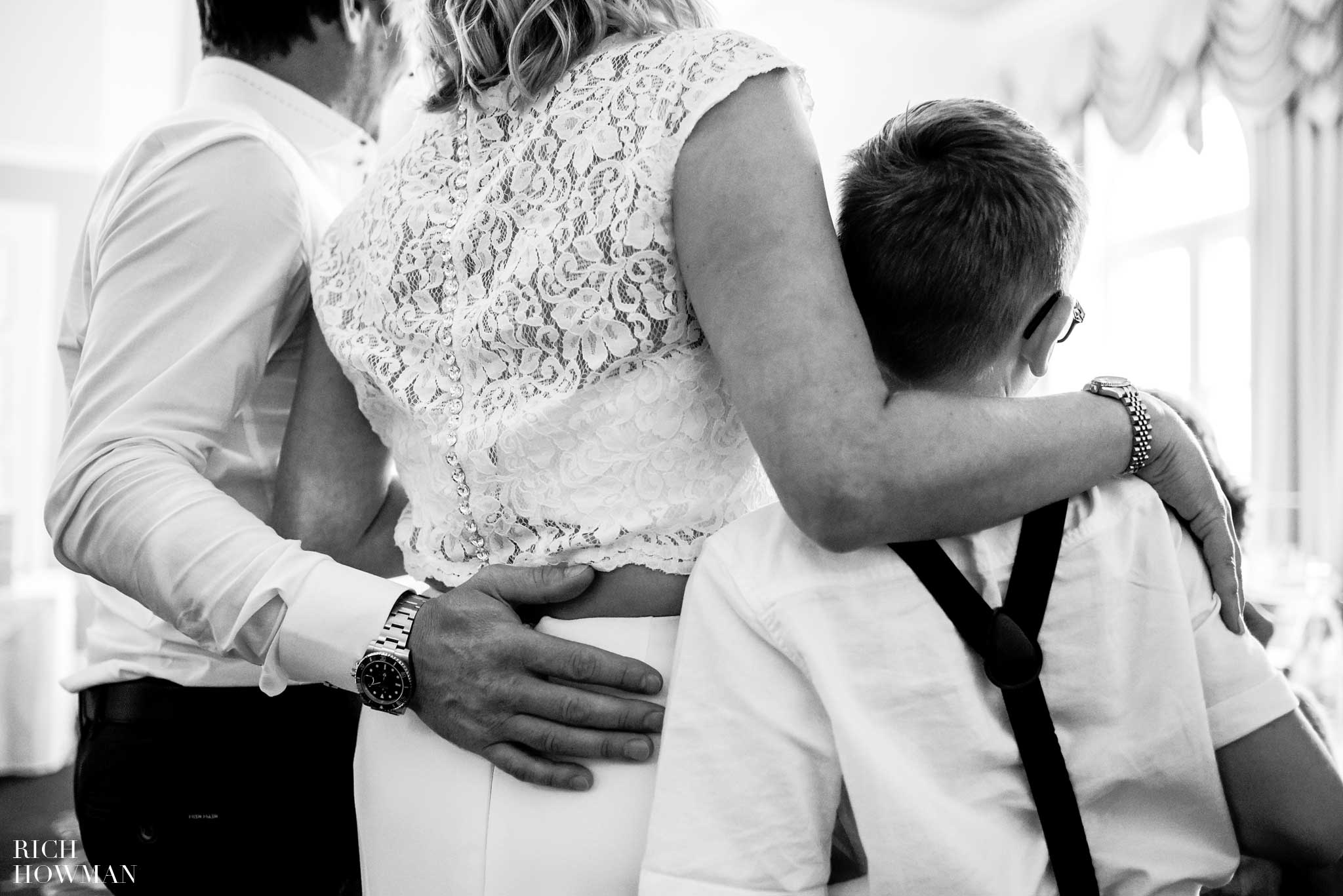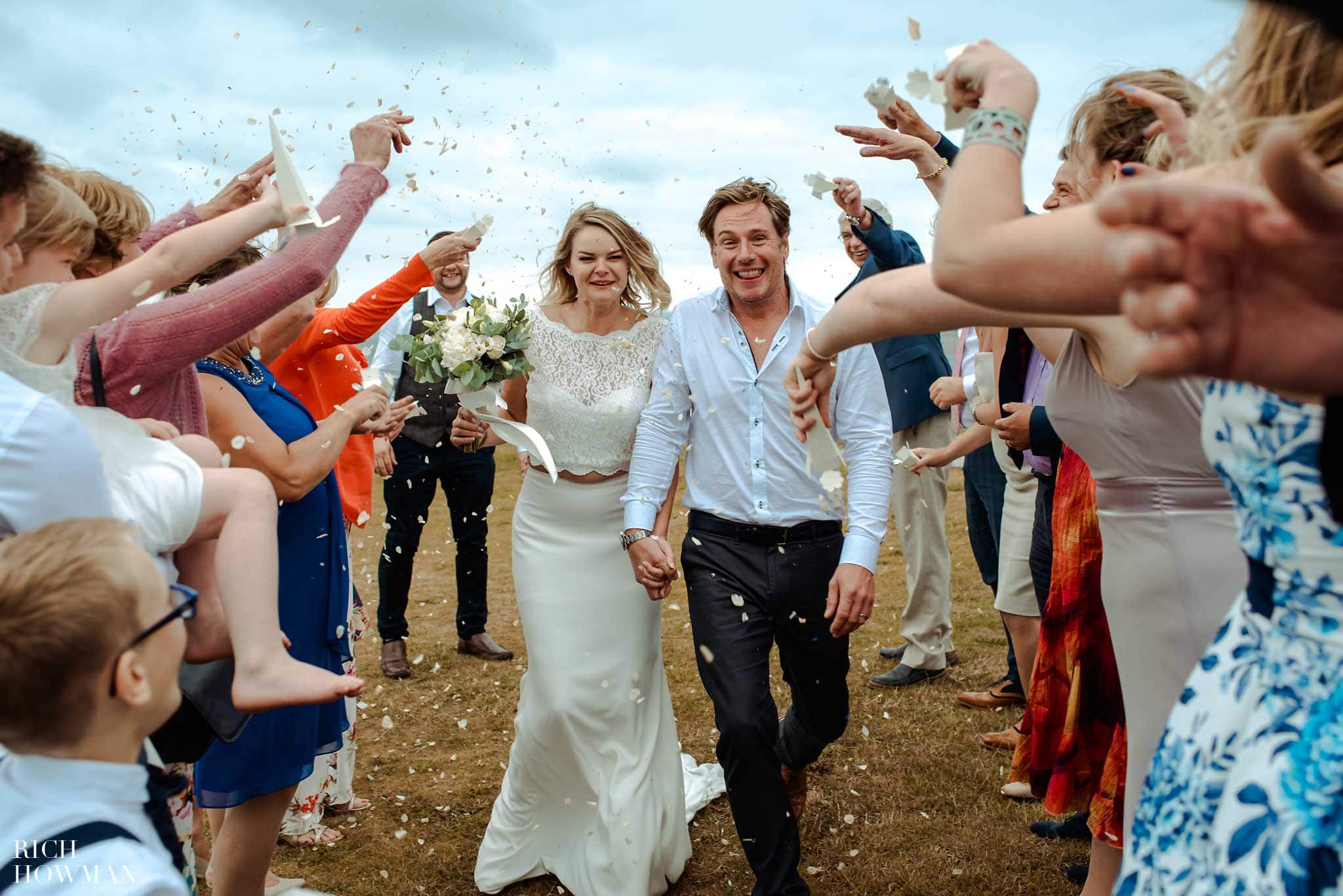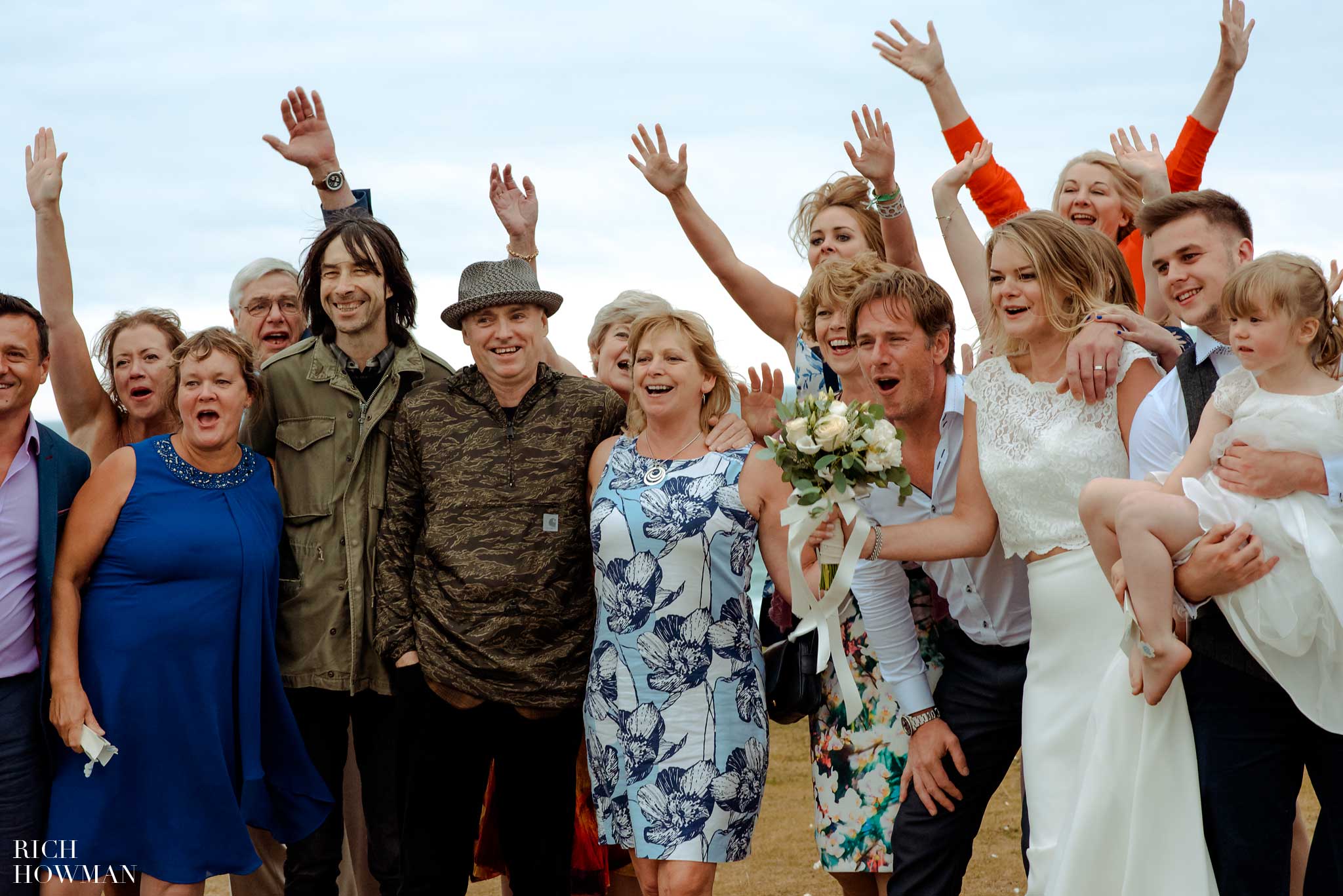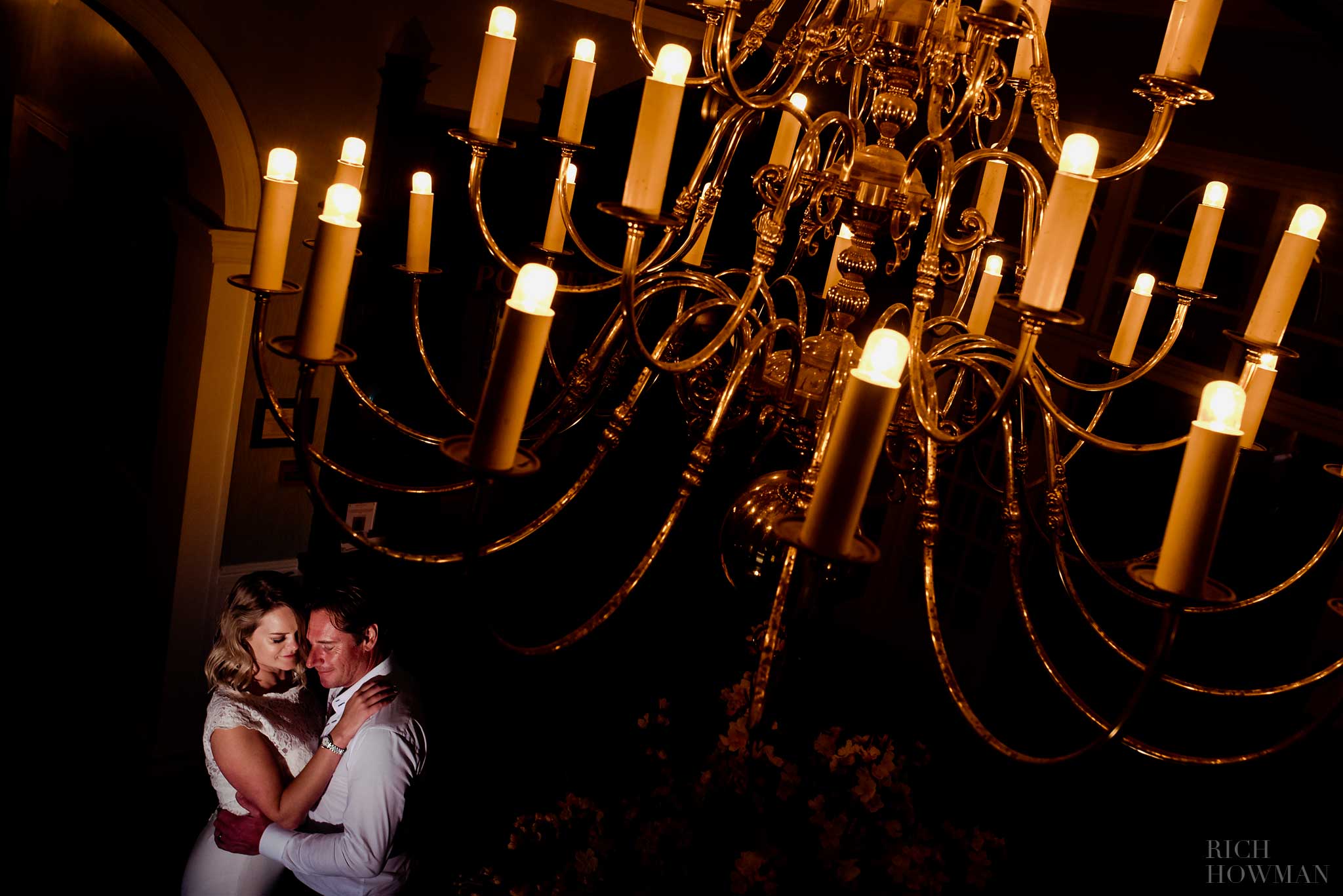 If you loved this coastal Headland Hotel Wedding Photographer in Cornwall Newquay, then you might also like to take a look at another wedding in Newquay near Fistral Beach, or this gorgeous Matara Centre Wedding. A beautiful Summer Leigh Park Hotel Wedding in Bradford on Avon,