Iscoyd Park Wedding – by Wedding Photographer Rich Howman
Iscoyd Park Wedding
I'm delighted to present highlights from Catrin & Charles' awesome summertime Iscoyd Park wedding in Wrexham, Wales. It was an early start for us heading north to Iscoyd Park which itself is just stunning, described as Shropshire's 'party house' by the Telegraph, it's a restored Georgian house and huge estate with a contemporary twist which makes it a perfect wedding venue, and faboluous for wedding photographs. It certainly was on their wedding day! They got married in the pretty local church of St Mary's, Whitewell, a whitewashed little church which wouldn't have looked out of place on a chocolate box, in a really relaxed and intimate ceremony.
I arrived early at Iscoyd Park with my second photographer and assistant, Claire, and we immediately went to work checking out some of the places we wanted to take them for their creative portraits photo shoot later on. As is our burden there were photo opportunities around every corner, and so little time to use them all, so we selected our favourites to bring them both back to when the time came. We joined Catrin who was getting ready in one of Iscoyd's amazing suites with her two bridesmaids, Thomo & Frad. An absolutely stunning wedding dress ('Alana' by Watters from Agape Bridal Boutique in Cheshire) was hung on the four-poster bed waiting for the hour to arrive. With champagne finished, makeup on and looking stunning, Catrin's father, Dai, then arrived to meet and escort her to the Church where he'd be walking her down the aisle.
Arriving in style for her wedding ceremony in a vintage white Beauford they headed inside to her waiting fiancée, Charles, his Best Man, Jamie, and a room full of love from friends and family. Speaking of which, we came across a lovely lady called Dorothy taking such pride and effort in preparing the flowers in the Church in the morning – they looked beautiful and the scent hit me the moment we walked in – the perfect frame to their wedding ceremony in the rural church.
We stole them away with them for their creative portrait shoot in Iscoyd Park's grounds before they sat down for their wedding breakfast. They both looked amazing and were just so relaxed and happy I knew I wanted to reflect that in their photographs. There is a little boating lake at Iscoyd, just besides the main house, and earlier on we'd found a really pretty little rowing boat which had been pulled up on to the bank and was laying amongst the reeds. This was just a perfect spot for them to chill out and to kick off their shoes and take a break from the wedding with each other, whilst I photographed them both. Charles suggested they take the boat out for a spin on the lake, which I thought was a great idea, but both Catrin and Claire disagreed – admittedly none of us were sure the boat would actually float!
The warm summer evening brought party time to this Iscoyd Park wedding and they threw some shapes before heading in to the cool darkness with us for some low light photographs. The milky way was really clear to see in the sky and we photographed them in a cwtch (hey, we're in Wales remember!) under the amazing stars, before Catrin jumped on her husband's back and got a ride back to the party. The photograph of them in the rowing boat by the lake at Iscoyd Park wedding was awarded 'cwtch of the week' by Cwtch the Bride!
Iscoyd Park Wedding Photographers
Claire and I were so excited to be at their wedding and to be trusted to photograph memories from their beautiful day. Thanks to Jen Paskell, the Iscoyd Park Wedding Coordinator, for her 'behind the scenes' help (she's so lovely!), and of course a huge congratulations to Catrin & Charles! xx If you're planning an Iscoyd Park wedding I'd love to hear from you!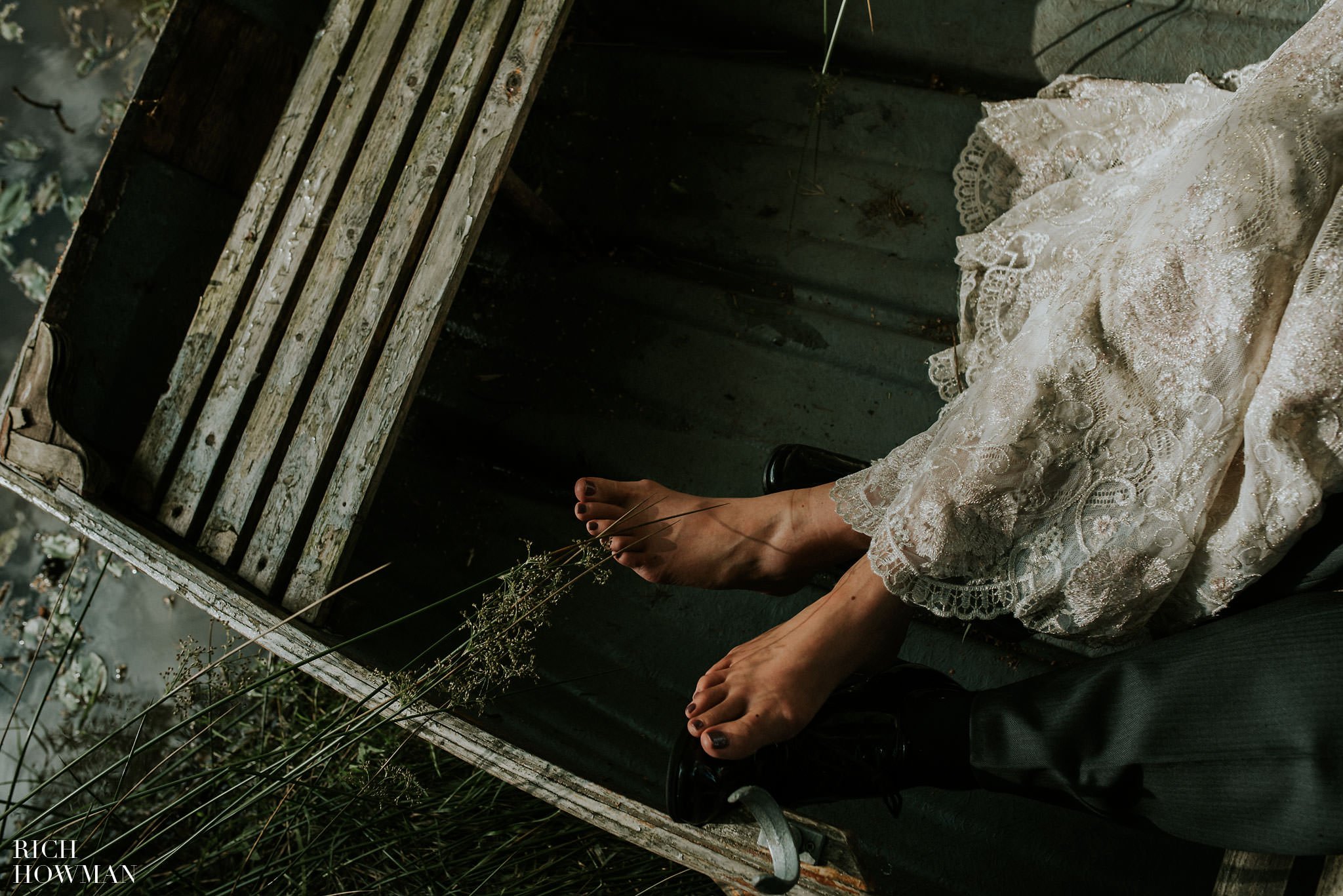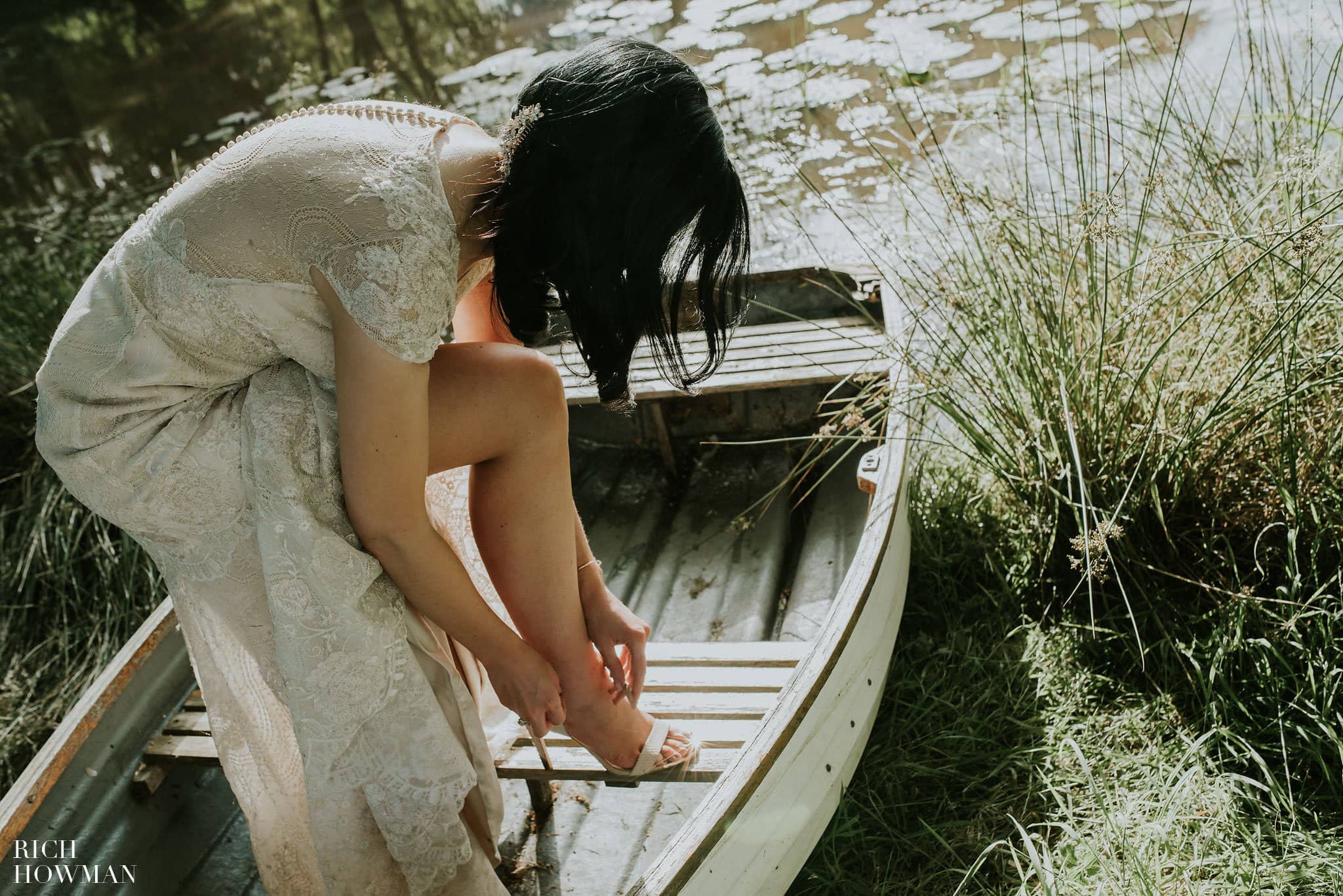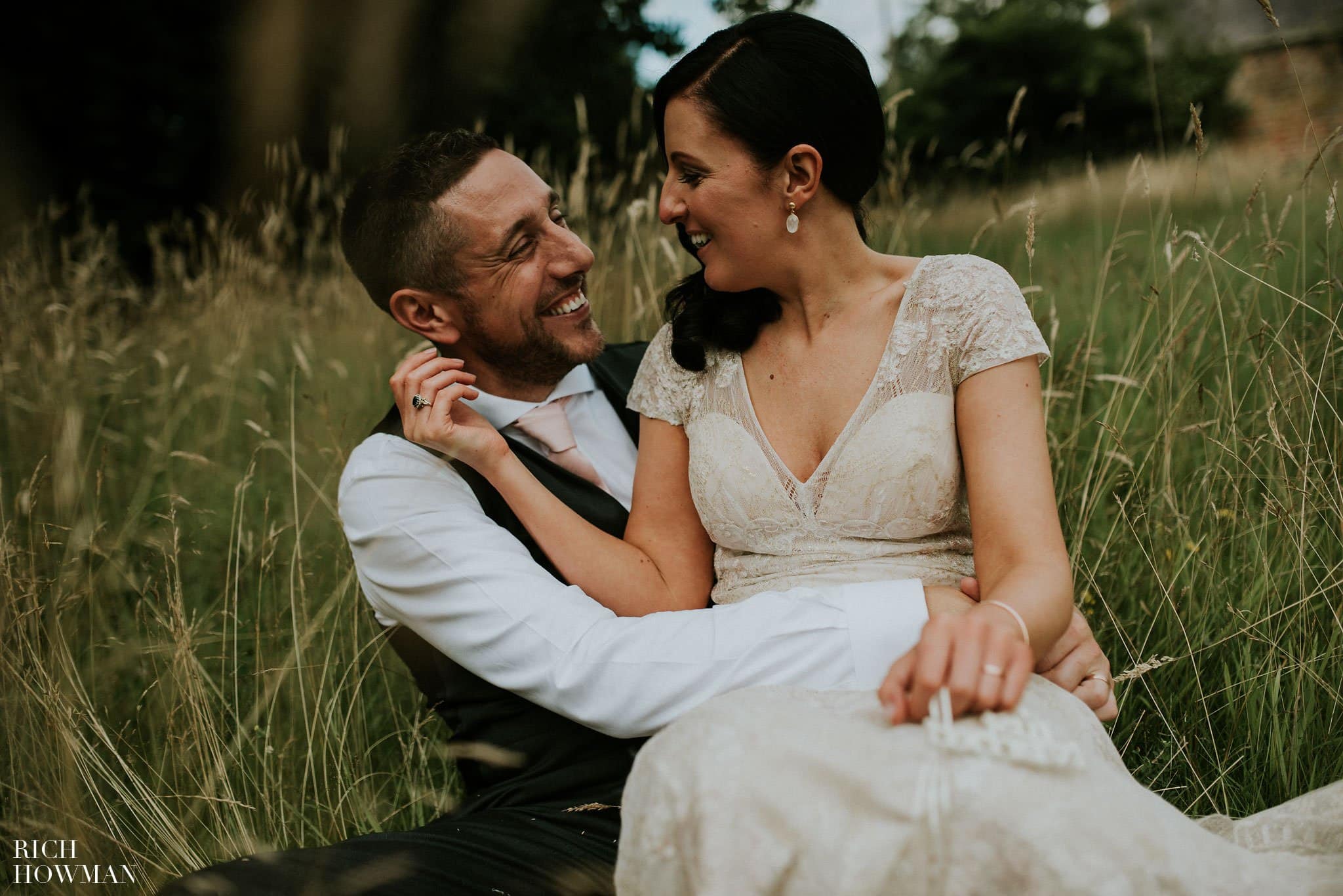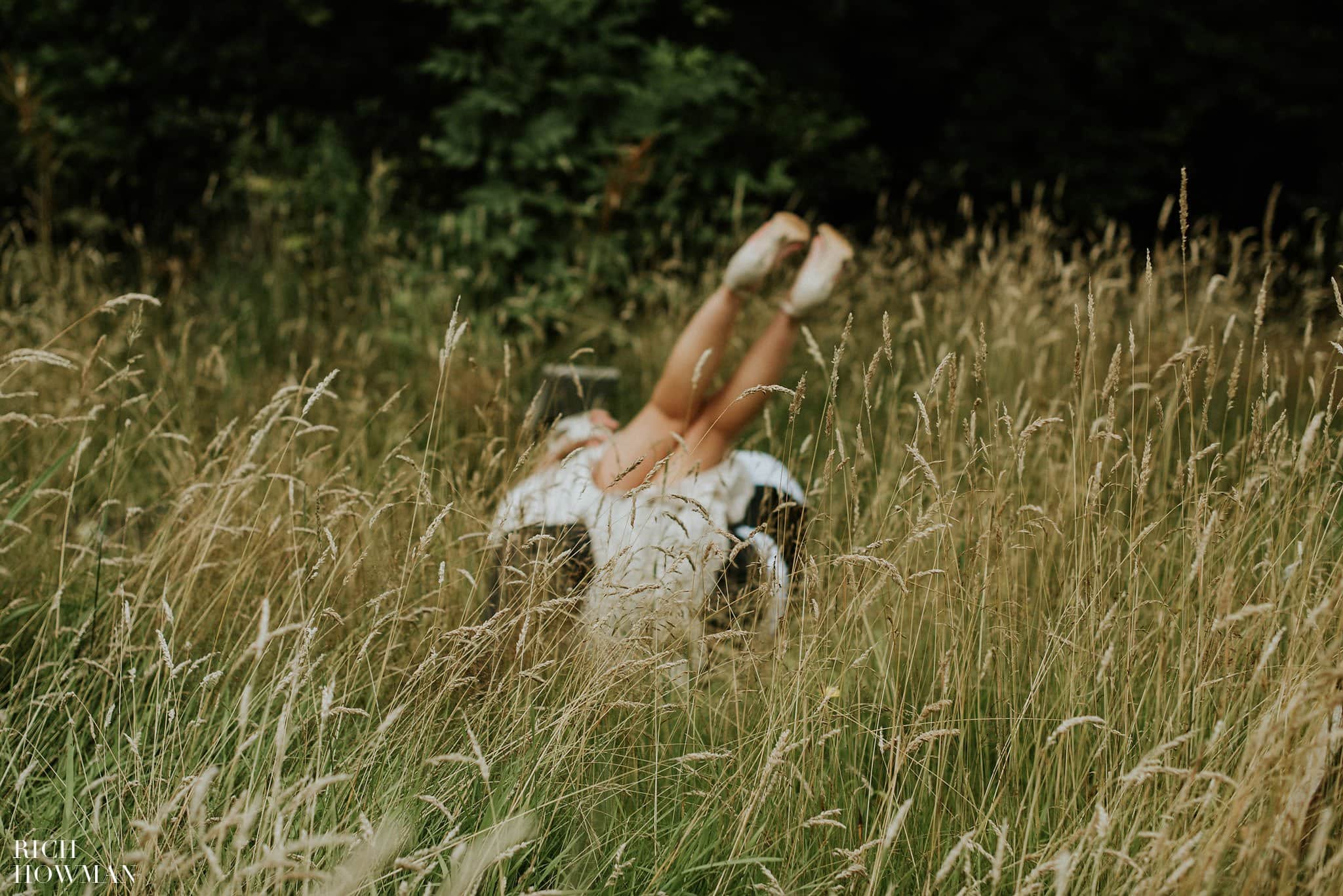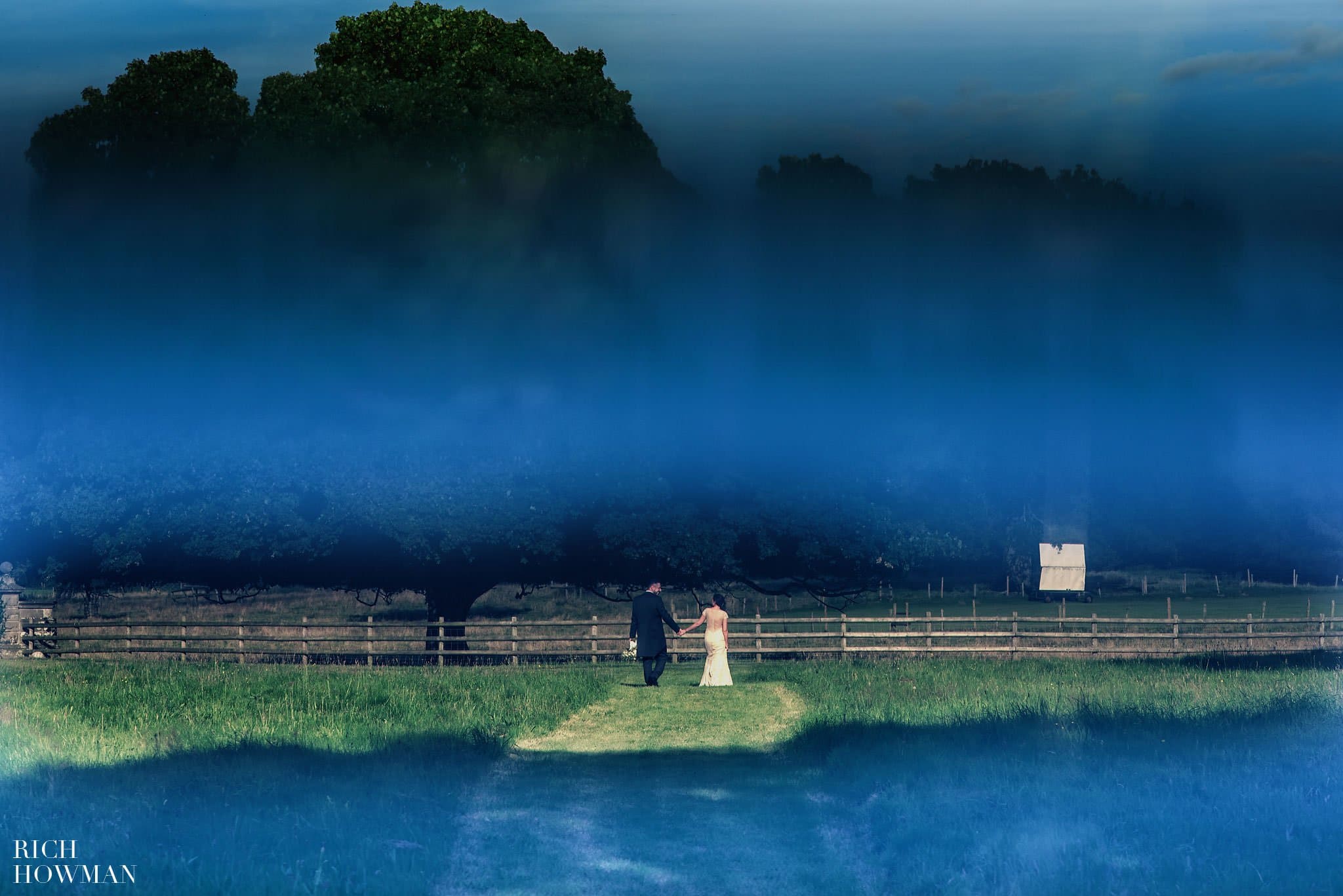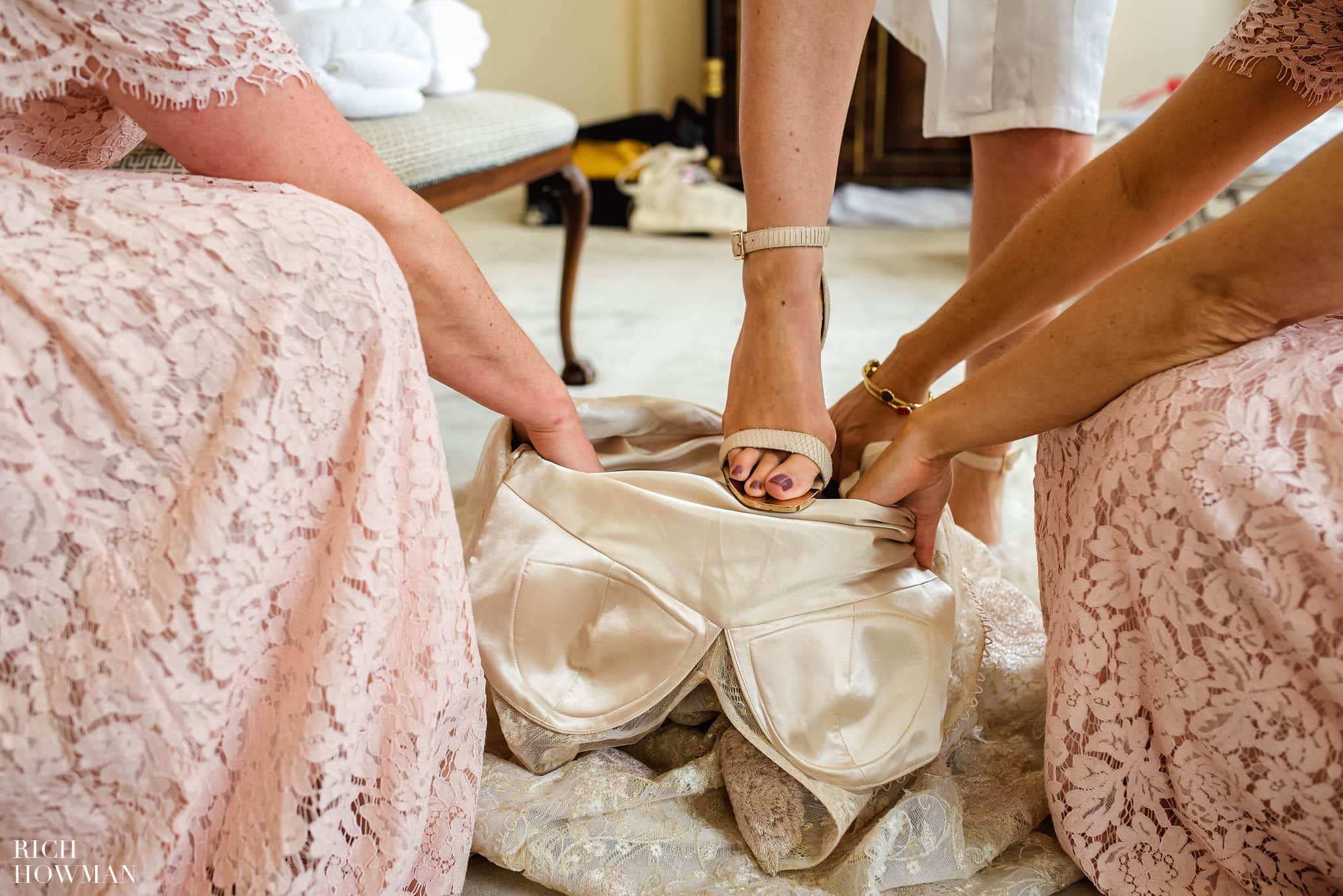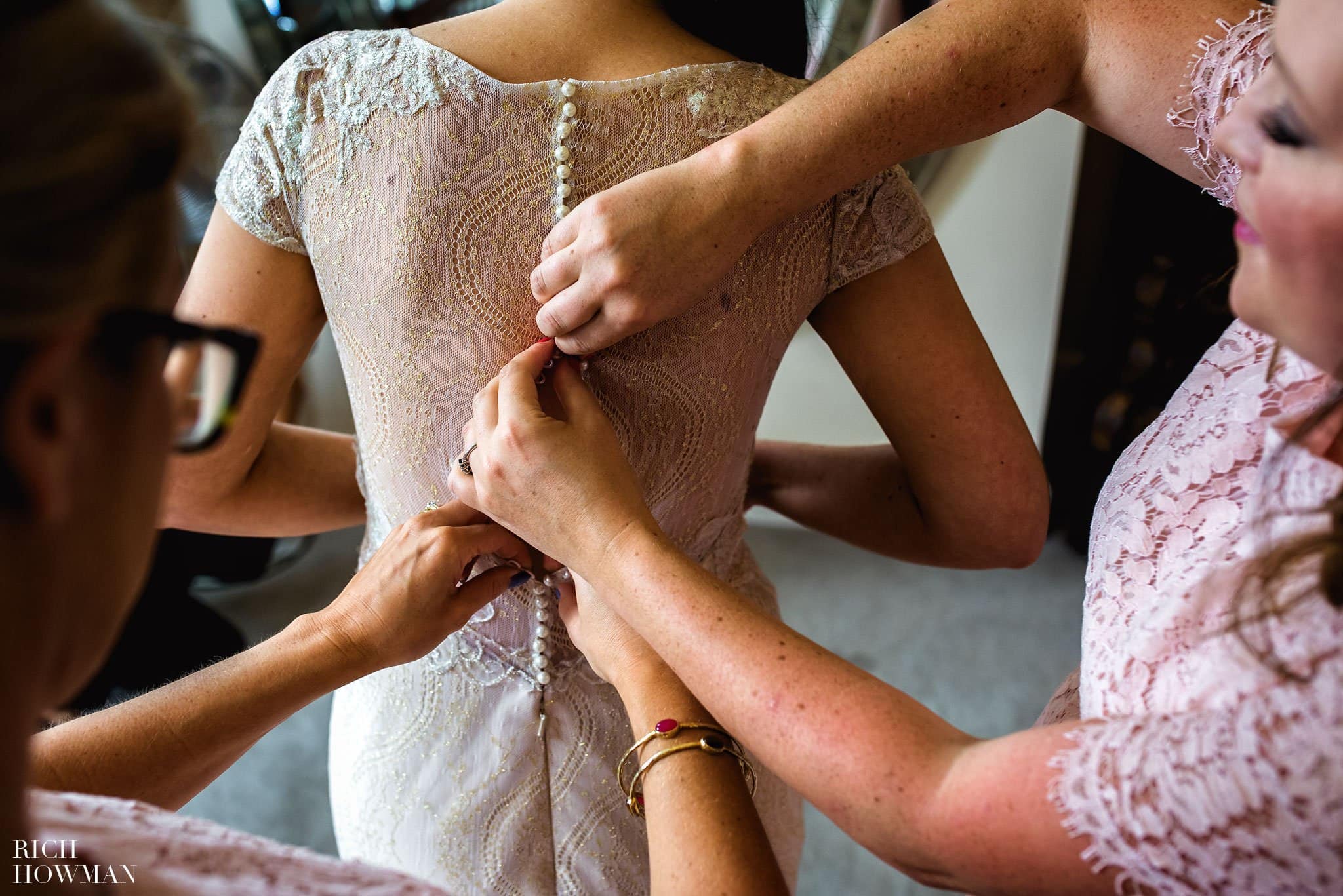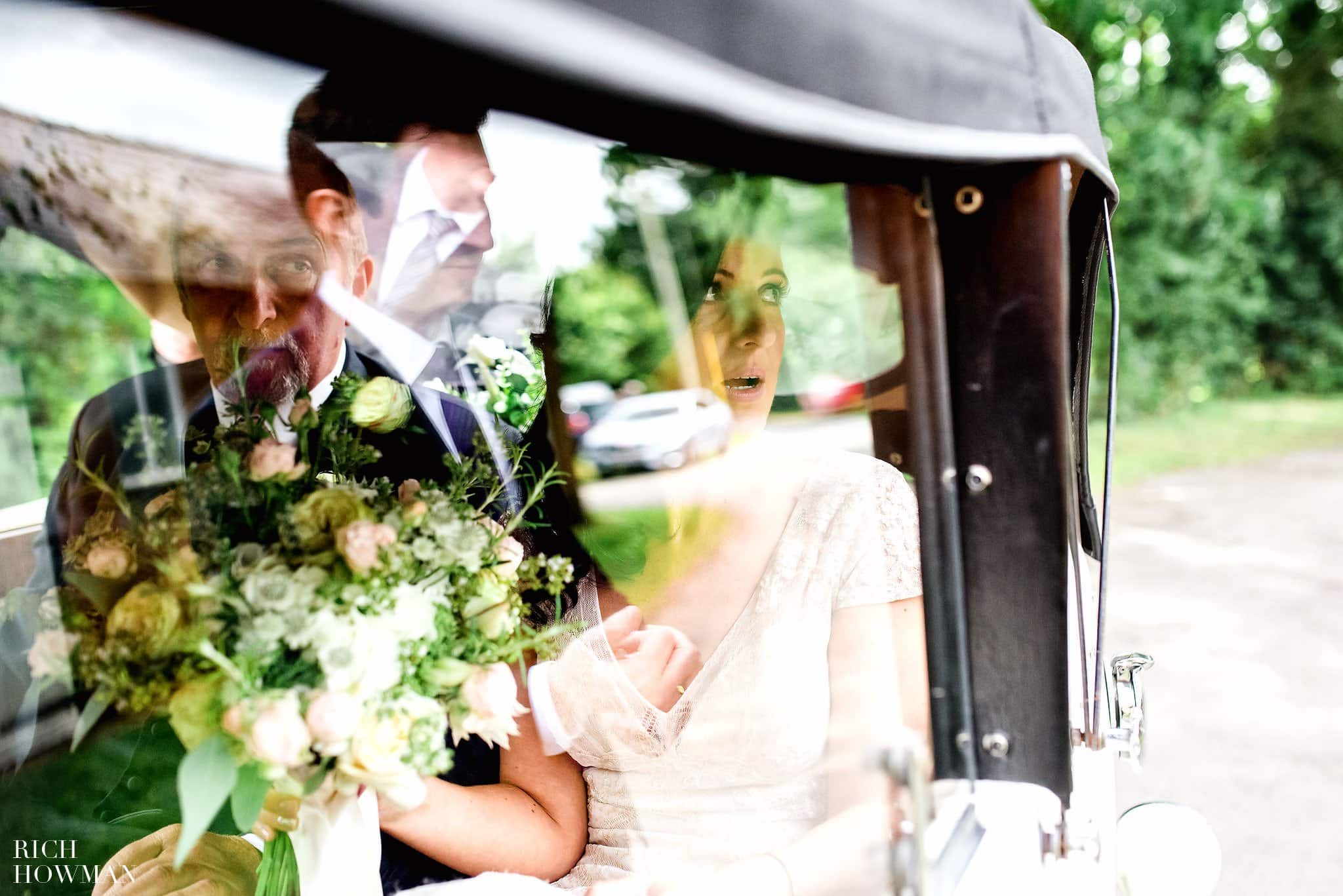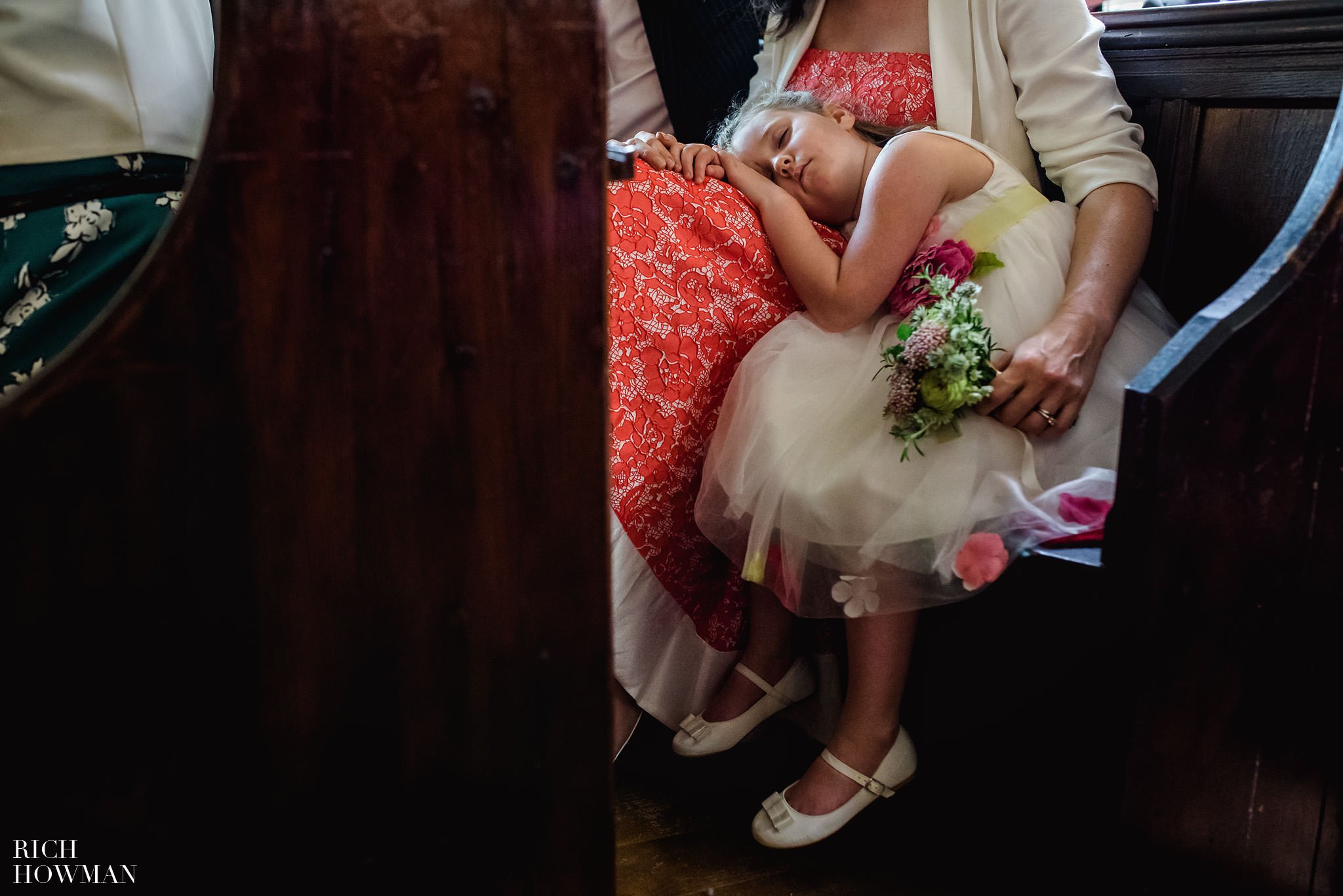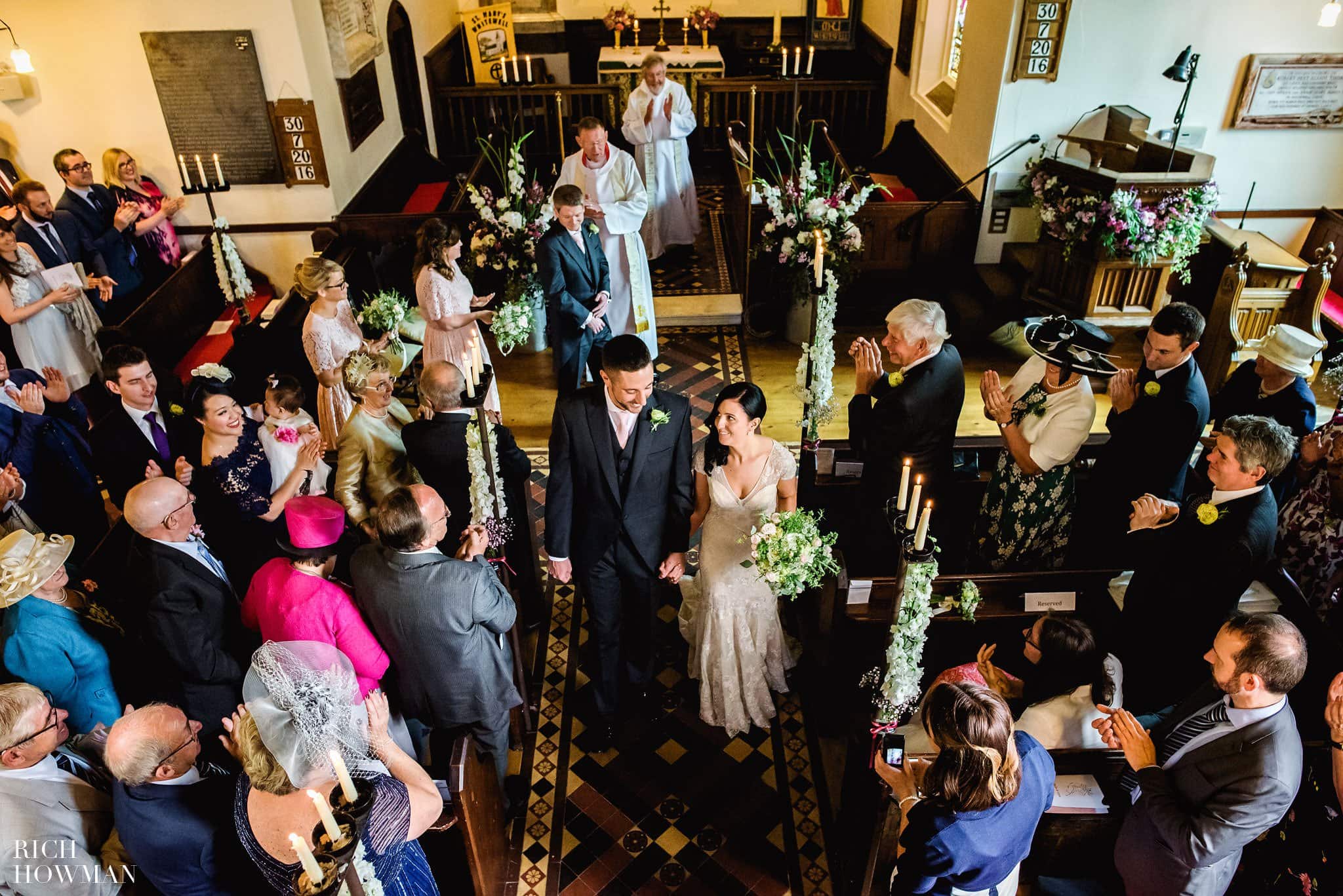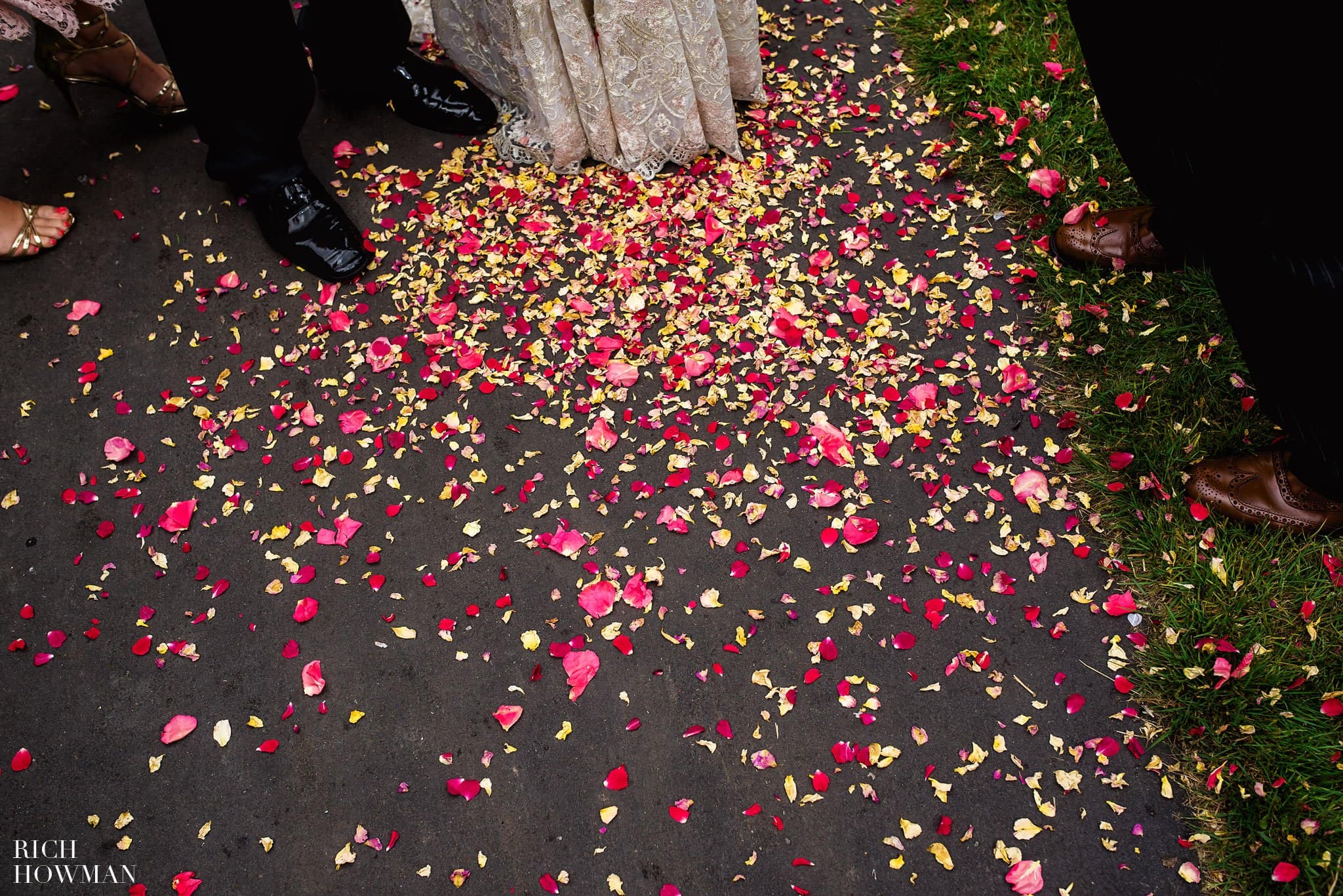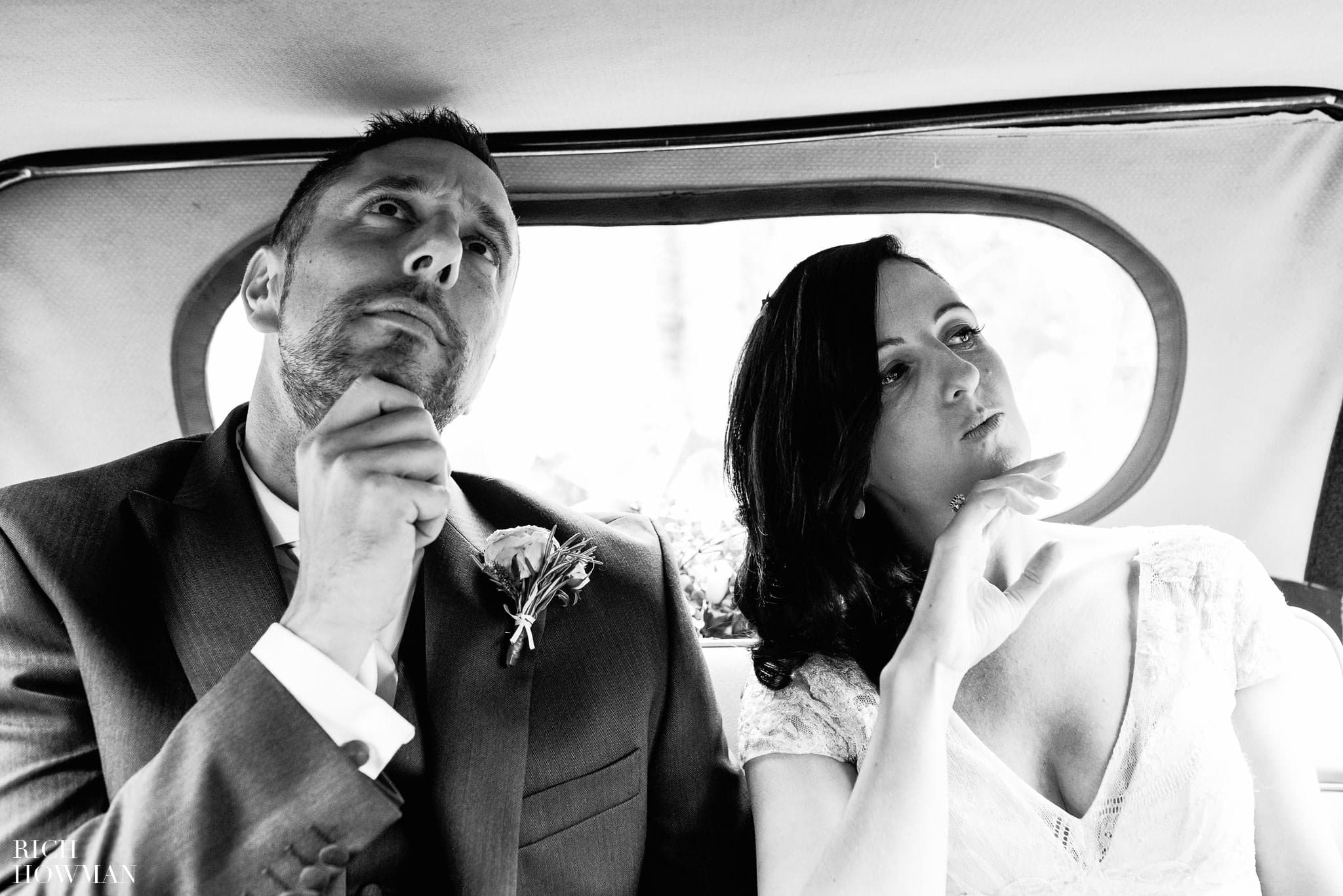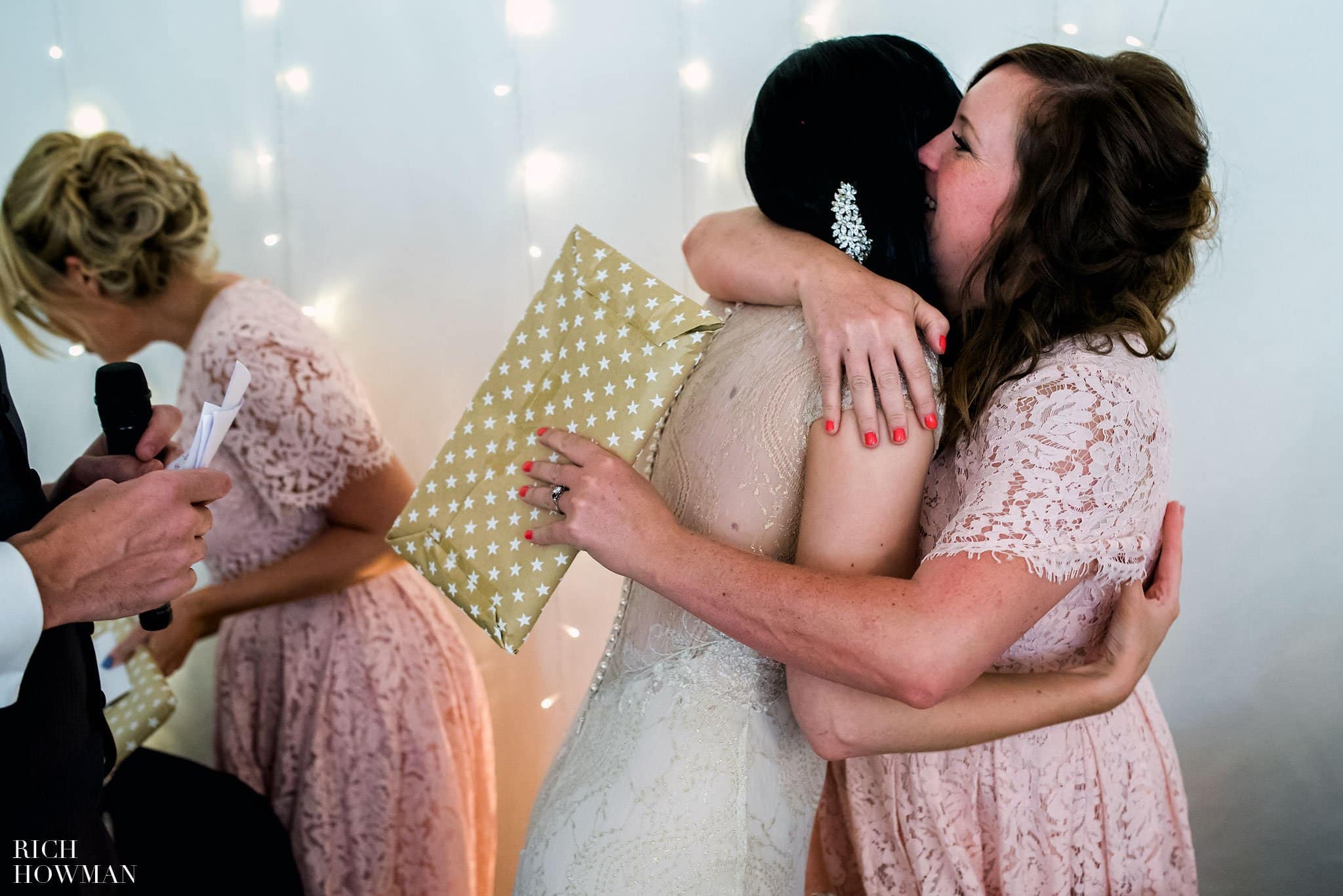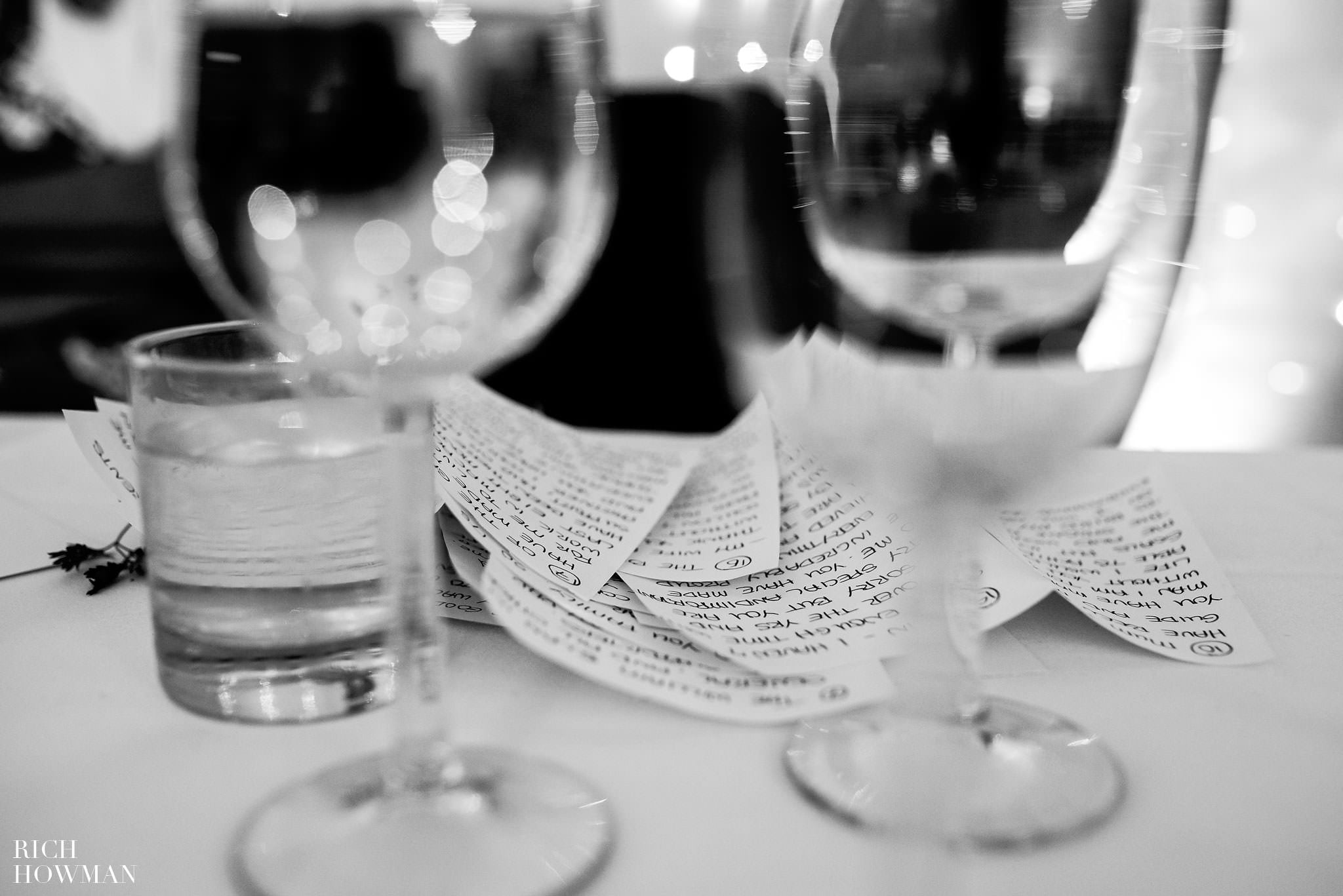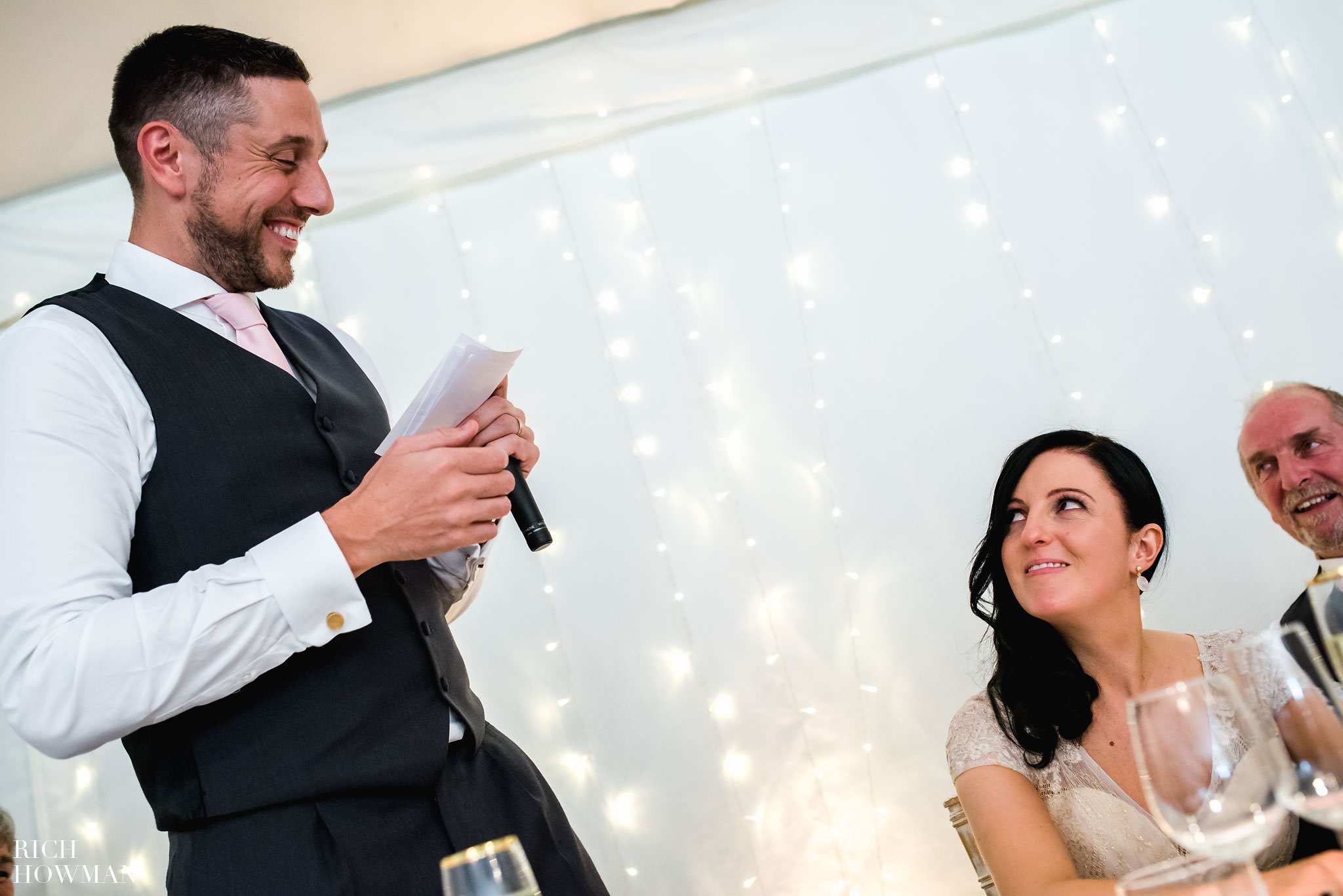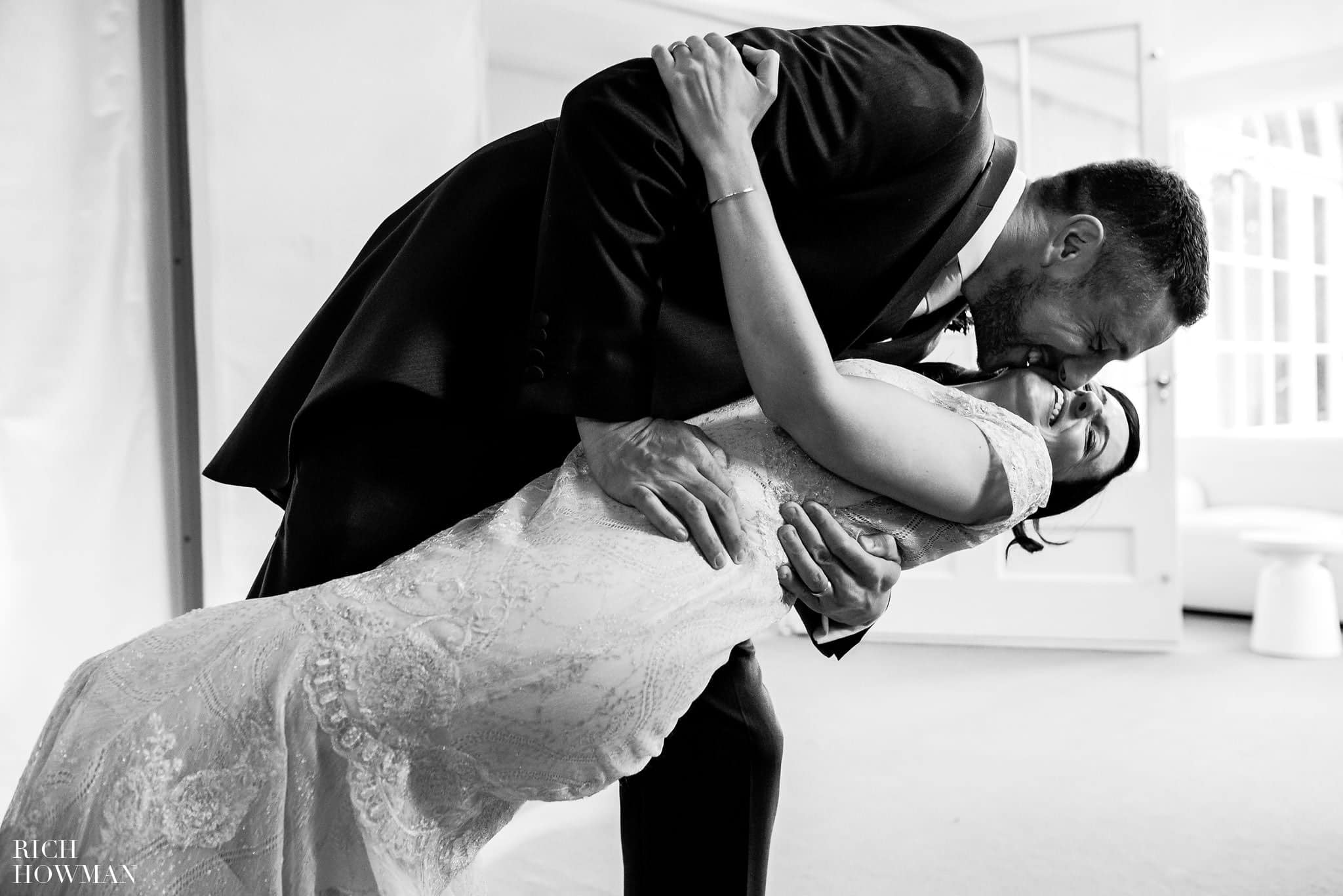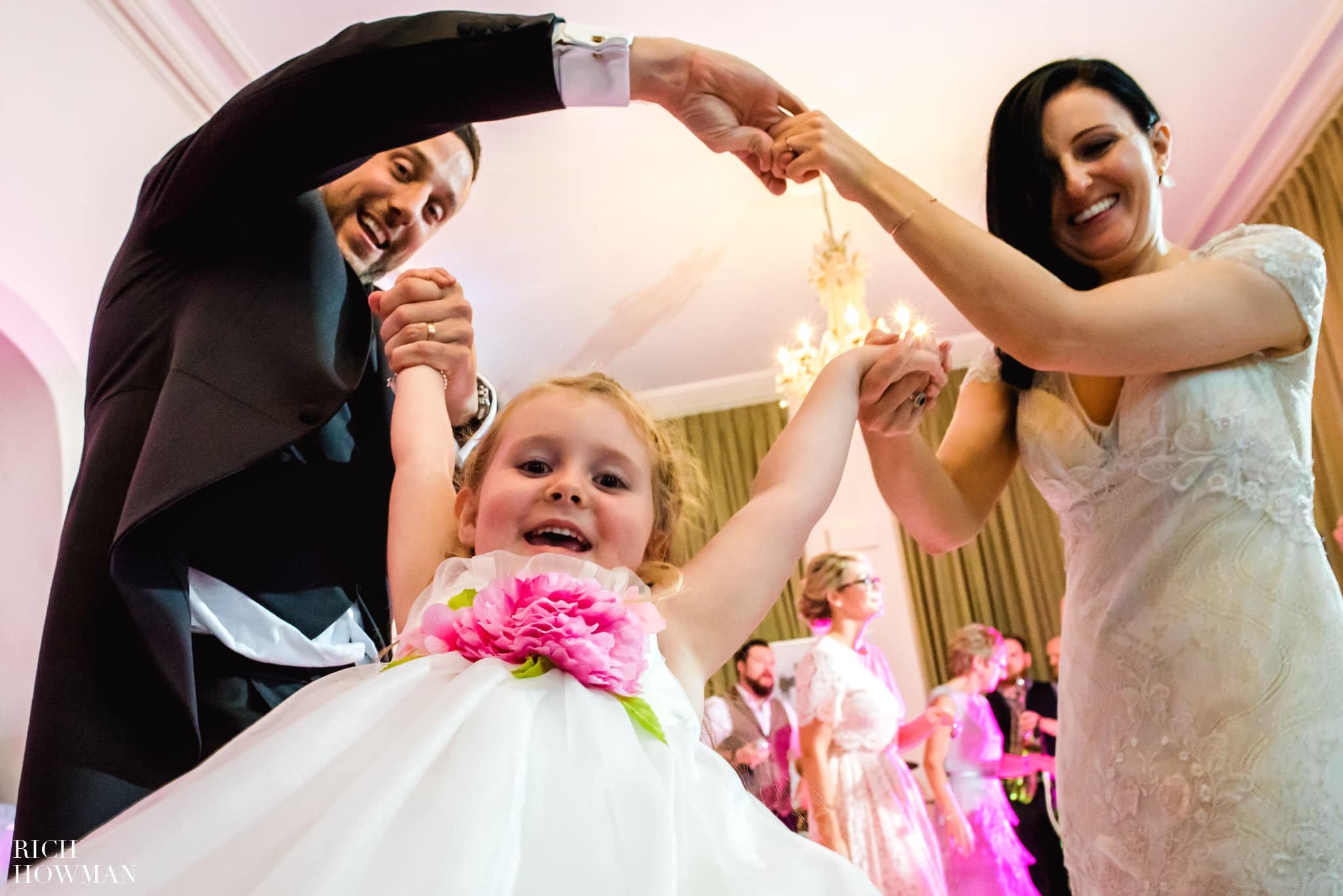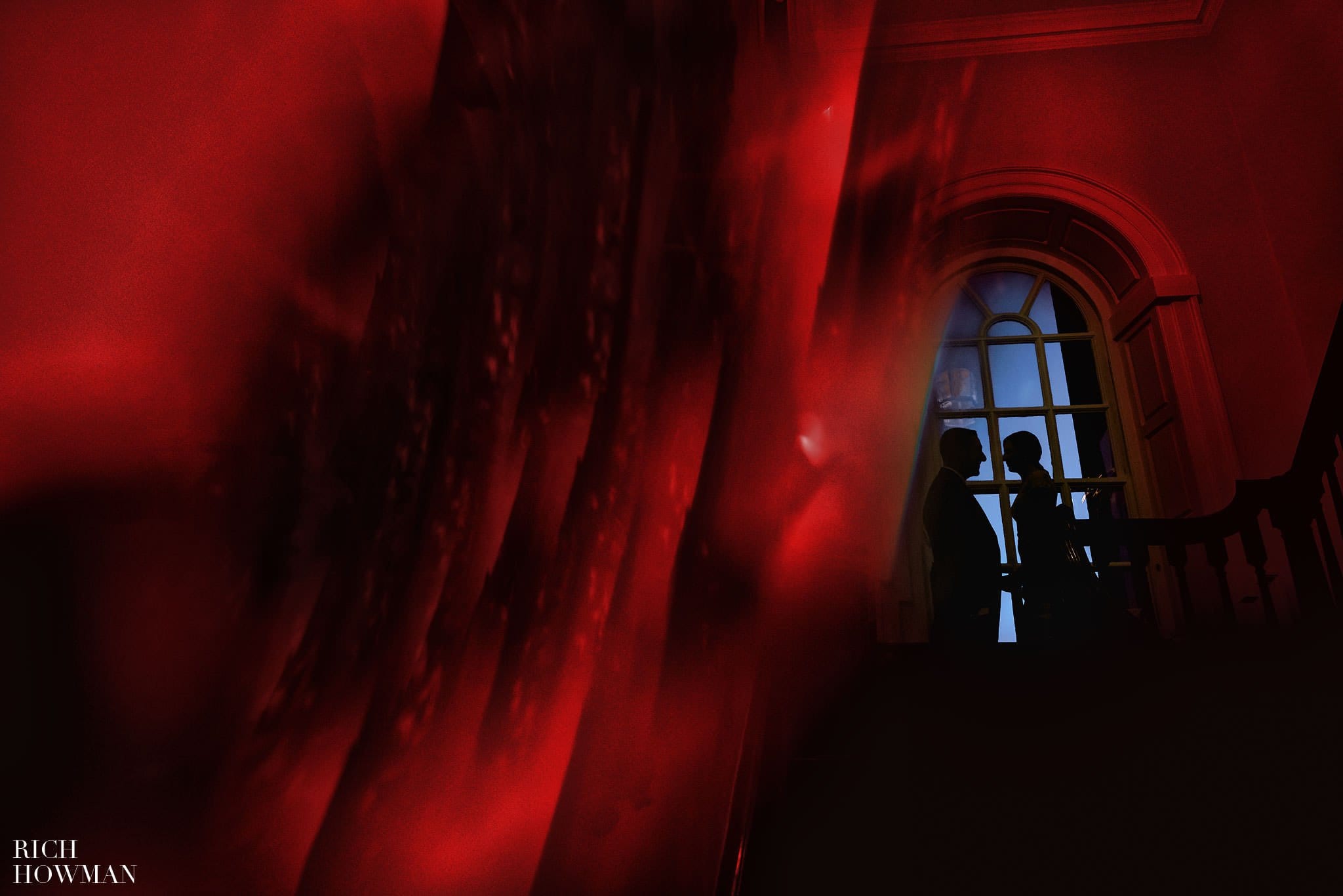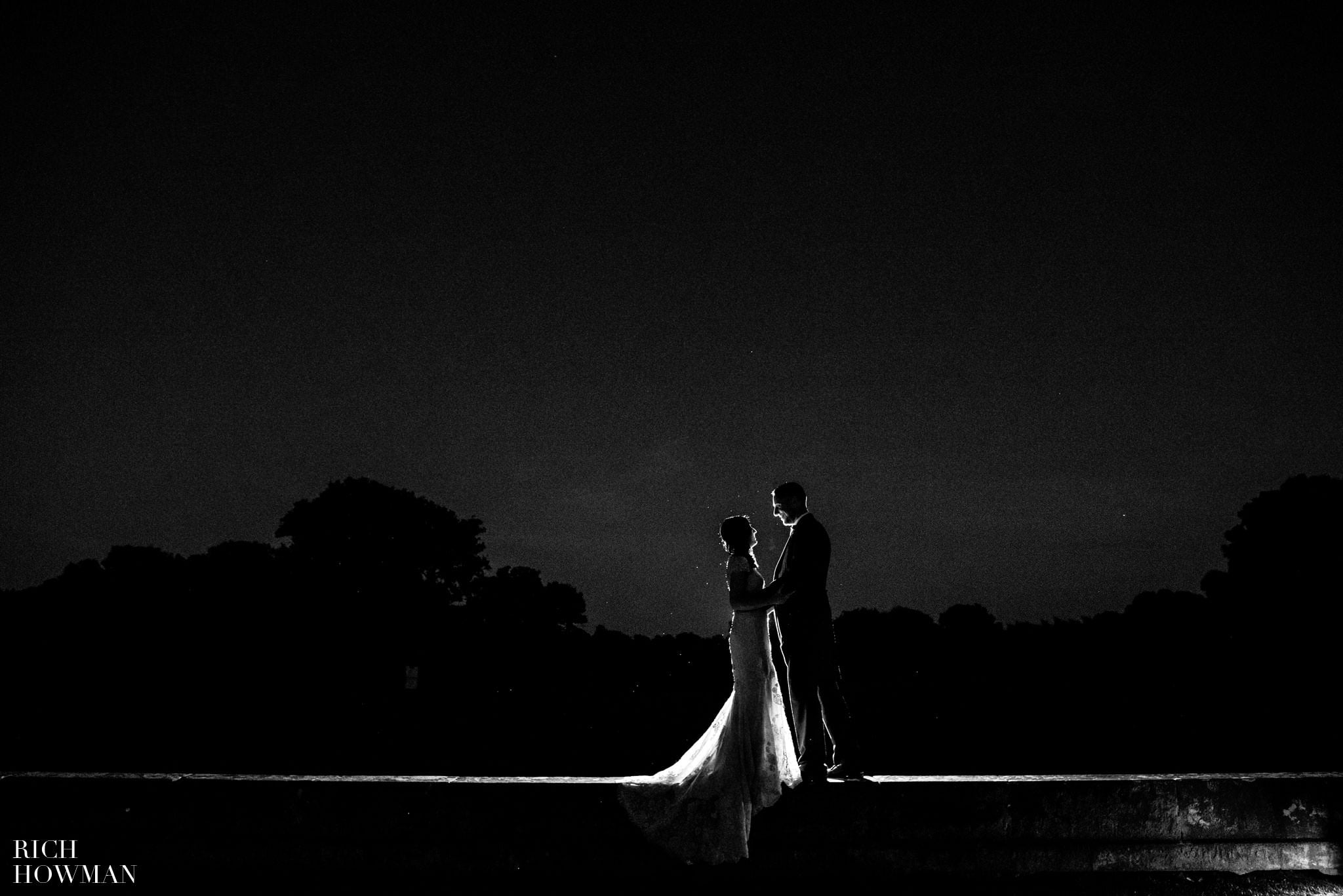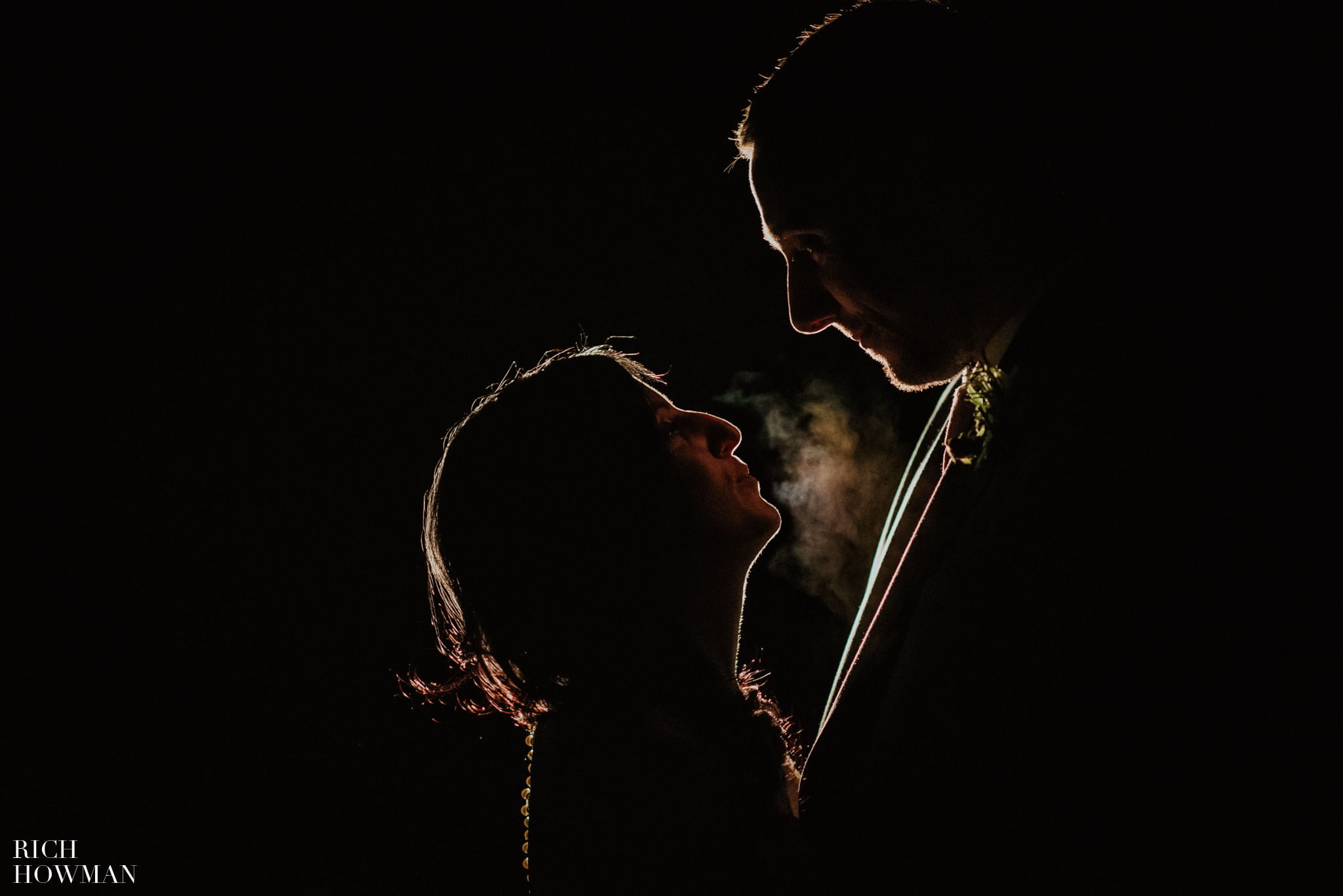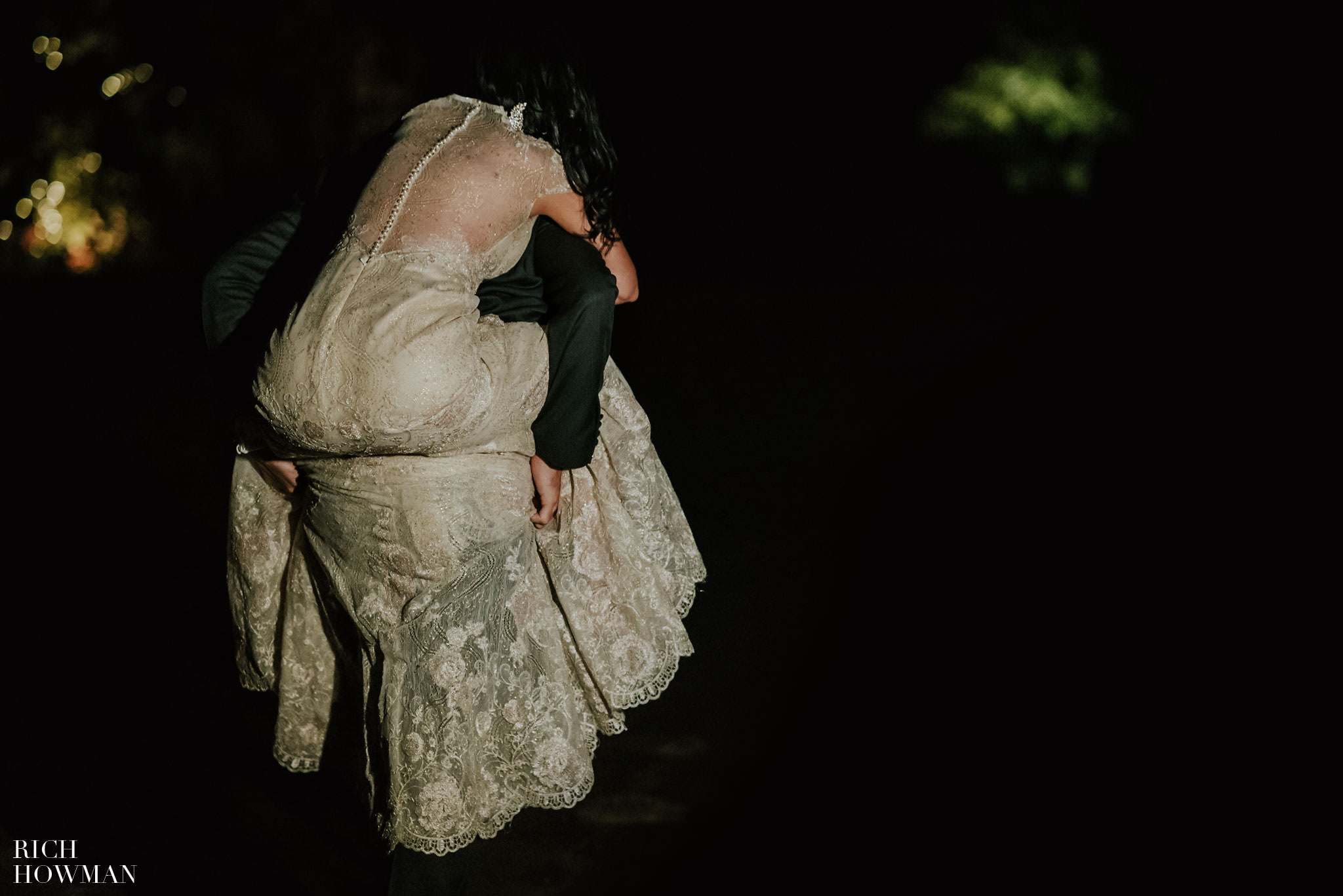 What was your budget? (only if you're comfortable disclosing it of course!) :)
More than we expected! We were very fortunate to have contributions from our parents.
How would you describe your Iscoyd Park wedding theme?
We didn't have a wedding theme at all. When we found our venue, it was such a beautiful place that we felt it only needed minimal decoration. So we decided to use neutral, classical colours, but with additional greenery especially in the church. We also used herbs in our decorations, bouquets and button holes as the groom's family are herb farmers.
Tell us about your wedding dress
My wedding dress was the Alana dress by Willowby Watters. It was a light gold lace dress which gave it a vintage feel which really suited the venue.
I'd love to know the story behind your wedding dress. where did you go? how many did you try on? Did you enjoy the whole experience?
I had never had an idea of my ideal wedding dress and initially struggled with the dress fittings. It was in my second dress shop (Agape Altrincham – just crowned best bridal retailer in the northwest of England 2017 wedding industry awards) , and the 13th dress I had tried on that I found my dress. It felt so right when I tried it on and I knew would suit the venue perfectly. However I had a massive panic because it wasn't white and so had a desperate few weeks trying on multiple dresses in multiple different shops. Until eventually I realised that no other dress I was trying on came close to how I felt in the Alana dress. Chloe in Agape was a amazing and was incredibly patient with me.
What was your favorite part of your Iscoyd Park wedding?
Definitely the time at the church. After the initial nerves had passed, I really enjoyed the church wedding experience which surprised me as I am not usually a church goer. However being surrounded by loved ones in such a gorgeous church was something I will never forget. We also had a 'car bar' with champagne outside of the church after the service to make the most of the beautiful surroundings and the sunny weather.
Who did you pick as your bridesmaids & / or best man and why?
My bridesmaids Amy and Sarah are friends from university, and so I have known them for over 15 years! They were the obvious choice as they have been always there for me through good, bad, and drunk times. I knew they both could calm me the morning of the wedding and not let me drink too much champagne so that I would still be coherent for the service! The best man was my husbands long time friend Jamie. They had lived together for 7 years, well until the best man kicked him out so that my husband would eventually get out of his comfort zone and buy his own place!
How did the proposal happen? (I love a good proposal story! :)
Well after 6 years together he actually proposed whilst we were on holiday. We've skied together every year since we met so it was a lovely moment when he proposed on to top of a mountain.
Apparently he was very nervous, but more about the bottle of champagne in his backpack that he'd been trying not to fall and break during a morning of skiing rather than what my answer would be. I think he thought I would never say no, so I guess he was right! It was on the top of a mountain with a slope called the 'Swiss wall' which I would never ski as it is notoriously known as one of the most difficult slopes. We were with friends who missed the proposal as one threw himself down the Swiss wall, and the other ran off to film him, so we we're just left with Charles' sister who discretely filmed the proposal. Luckily I loved the ring, as he had really put some thought into it, as the 3 diamonds were set on a rose gold band which reminded me of Welsh gold.
What was your first dance & why?
It was Stand by Me by Ben E King. It took us a while to decide on a song, but the lyrics to this song really called out to us. Our band played the song on the night which gave it a lovely personal feel to it.
In hindsight, was there anything you would have done differently?
Nope, nothing! We both agreed it was the perfect day, and only wished it could have lasted longer. Such a cliché, but the day did go so quickly!
Do you have any advice for future couples?
I would give the standard advice which is to enjoy the day, and make sure to spend some time with just you and your husband/wife. And really don't worry to much about table settings/order of service as its really not what people see or remember.
Why did you choose Iscoyd Park as your wedding venue?
We looked at venues in North Wales and along the Wales-England border to make it easier for family (especially mine from Pembrokeshire/Ceredigion) to travel to the wedding. We looked at 12 venues in total, and Iscoyd Park was the 8th. We fell in love as soon as we saw the house, and nothing else came close. Not only was the house and grounds beautiful, but the church was perfect and the staff during our Iscoyd Park wedding were incredibly welcoming. An added benefit was that the church (St Mary's at Whitewell) was in Wales but in an English parish, so the Welsh contingent thought we were married in Wales but the English side thought we were married in England! A win-win situation.
I'm a little biased but tell me about your photographer
Charles found the photographer (Rich Howman) by searching the Internet for award winning photographers. His photos online blew us away and we booked him immediately! We didn't meet Rich until the morning of the wedding as Charles had been away working in Macau China for the 9 months before the wedding, so we weren't able to arrange engagement photographs. Rich immediately put us at ease on our wedding day, and took amazing photos, that I sometimes can't believe it's actually us in them! I can't recommend him highly enough.
What was your favorite thing about planning a wedding?
Choosing the venue! Probably because we're a bit nosey and saw some lovely places. However we did get a speeding ticket trying to get to one venue when we under estimated distances between venues…
What's the best piece of marriage advice you received?
Set asides money monthly for holidays, so there's less stress when booking. I think this is the only way we've managed to go skiing annually.
Photographer: Rich Howman
Wedding Planner: Jen at Iscoyd Park
Ceremony Venue: St Mary's Church, Whitewell
Reception Venue: Iscoyd Park
Bride's Dress: Alana by Willowby Watters. Purchased at Agape, Altrincham
Bride's Headpiece: Etsy
Bride's Jewellery: Auree Jewellery
Bride's Shoes: Dune
Groom's Outfit: Groom Hire
Bridesmaid's Dresses & Accessories: Asos
Cake: My step mother
Flowers: In the church Mother of the Groom and family.
Bouquets and buttonholes; Selena Godsal Flowers
Hair: Nicola from Jane Alexandra, Cheadle
Make Up: Gemma at Secret Spa
Band: The Rush
DJ: Emil Haye
Caterers: Fine Dining Company
Transport: Arrive in Style at Oswestry