Pennard House Wedding
Pennard House Wedding photographer Rich Howman. For the lovely Jennie and Andrew's special day, they had chosen Pennard House, an exquisite manor house wedding venue nestled in the heart of the Somerset countryside, not far from Shepton Mallet. Wedding photography here is a real pleasure as there are opportunities for stunning photo shoots around every corner. Jennie and Andrew had definitely selected a dream venue from a wedding photographer's point of view, and it was clear to see that the venue suited them perfectly as a couple as well.
Having also been their photographer for their great engagement shoot at the Bristol Harbourside and the Bristol Old Vic, and been able to get to know Jennie and Andrew, I knew their wedding day would be relaxed and intimate, and full of details which reflected their personalities. Jennie's sister, over from Israel with her family especially for the wedding, did Jennie's makeup and helped her with her beautiful gown and final preparations. Just before their ceremony Jennie's Dad collected her when she was ready and proudly walked her down to the ceremony room in the Manor House, where Andrew was waiting. I loved being able to capture the exhilaration and joy on their faces as they saw each other for the first time, standing together and preparing to pledge their lives to each other.
Following the ceremony, the wedding party moved to the Coach House for a drinks reception, accompanied by the gentle, flowing music of two acoustic guitars. Where they had the opportunity to greet and welcome their guests for the first time as married couple.
Creative & Relaxed Wedding Photography at Pennard House
Jennie and Andrew are great lovers of the outdoors, so as the sun started to drop down behind the hills in the distance, we took advantage of the last of the daylight, dashing across the lawns and gardens for a creative photo shoot which I felt really reflected the couple as I had got to know them. The grounds of Pennard House really came into their own as the evening sunlight over the hills bathed them both in gold. The stunning interior of the house became our destination for some creative portraits, one of which was selected for an international wedding photography award!
Over the wedding breakfast, we heard some fabulous, funny and touching speeches. The time and effort which Jennie and Andrew had poured into the day were evident from all the thoughtful details. The little waxed stones on all the place settings had been made by Jennie, and special cufflinks meant that Fiennes, the canine love of their life who couldn't attend the day itself, was still with them. The 3-tiered wedding cake had been baked by friends was displayed on a wooden stand which had been lovingly and stunningly made by Master Carpenter Andrew. The couple even cut the cake with an axe, as a nod to Andrew's love of all things tree-related, which was a first for me! In the darkness of the evening, I was gifted yet another great outdoor photo opportunity as the newlyweds and their guests had drinks around a fire pit. I was able to capture beautiful movement and silhouettes behind the flickering flames which just seemed to fit Jennie and Andrew so well.
Inside, the Somerset Paddies kicked off dancefloor proceedings with their foot-tapping blend of Somerset and Irish songs, and after the first dance, children whirled around the room. I so enjoyed being part of Jennie and Andrew's special and individual (and as it turned out, award-winning!) day at Pennard House. We were able to take advantage of the gorgeous grounds and interior of the manor house to encapsulate their wonderful wedding, and I feel very privileged to have been able to follow them from their "Will you marry me?" moments to their happy-ever-after.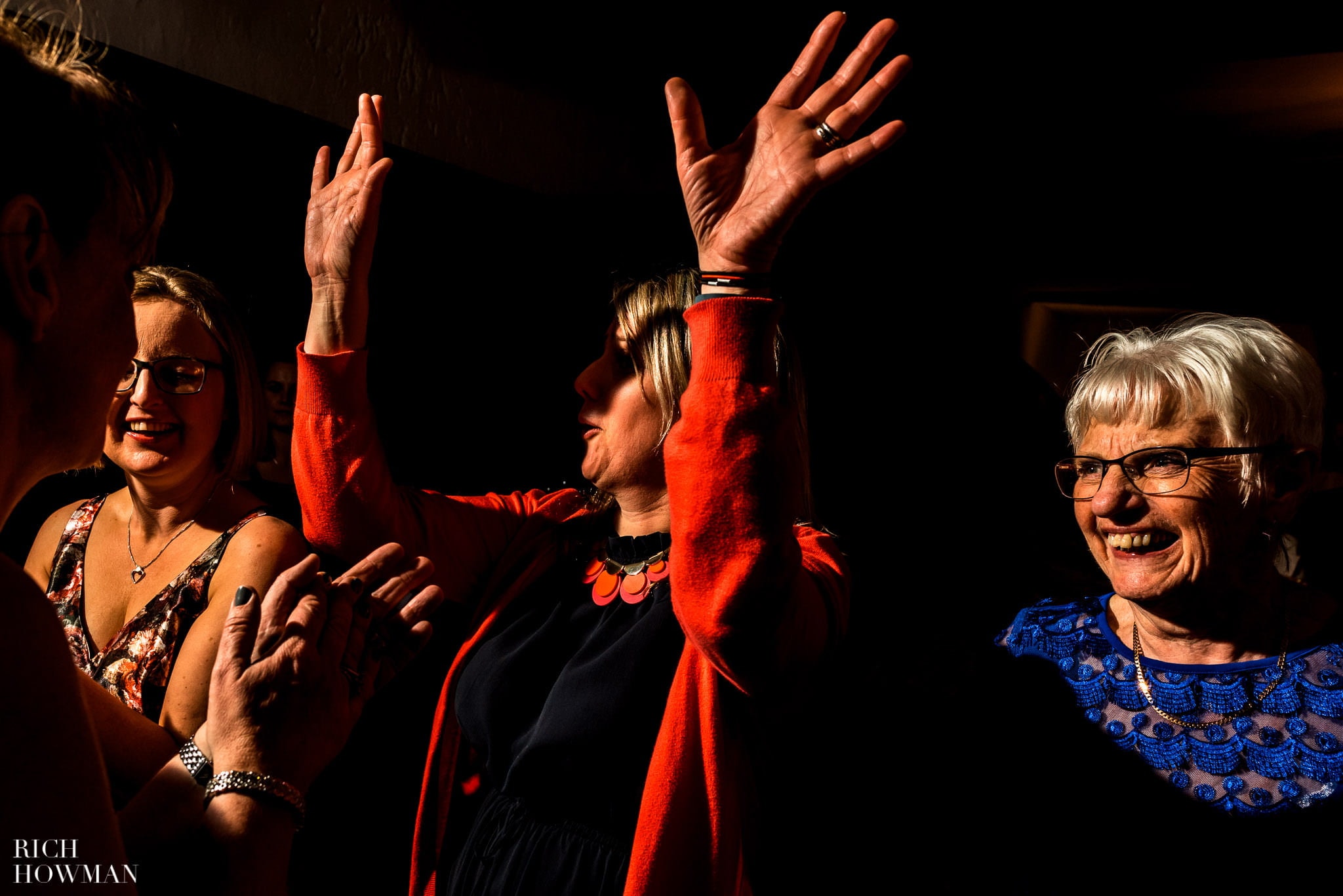 Pennard House Wedding Photographer Awards
I was delighted that one of the photographs from Jennie & Andrews Pennard House Wedding was selected for a Fearless Photographers 'Photo of the Day' award! You can see it on the Fearless Photographers Instagram page here. They also enjoyed an engagement photo shoot in Bristol along the Bristol Harbourside and finishing at the Bristol Old Vic Theater where Andrew works as a Master Carpenter. I was excited to receive an international wedding photography award from their engagement shoot too, with a photograph taken back stage at the Bristol Old Vic theater, with the set of the Grinning Man! If you've loved these highlight photos and you're looking for a Pennard House Wedding Photographer, please get in touch with Rich.
Wedding venue: Pennard House