Wedding at The Shard, London | The Shard Wedding Photographer Rich Howman
Wedding at The Shard
An intimate gay wedding at the Shangri-la Hotel, the Shard in London
When a couple have been together for 20 years there is a special connection, a relaxed easiness surrounds them and loving tenderness resonates between them. I discovered this about Tony and Adam when we met to talk about their wedding at The Shard, as well as falling for their brilliant sense of humour. I knew their special day would be epic for all involved.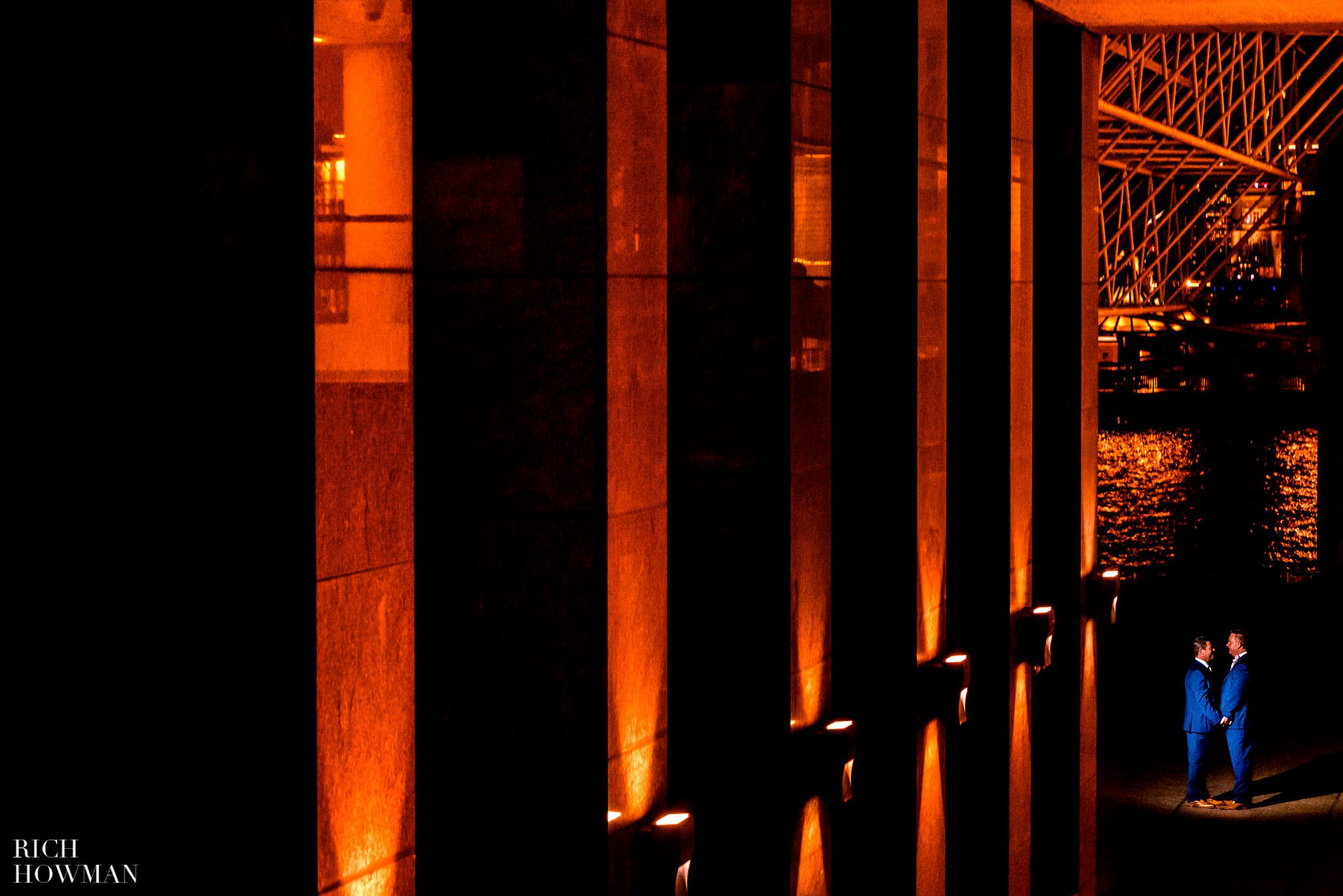 Shhh.. it's a secret wedding at The Shard!
We set off early in the morning to travel to the city of London to photograph this amazing wedding at The Shard. One of the most amazing things was that they had managed to keep it a secret from their closest friends, who thought they were gathering to celebrate Tony's 50th birthday in style. Their wedding plans had been entrusted to just two friends on a need-to-know basis only! We arrived early to explore this phenomenal place, London's highest wedding venue, and make plans for photographing the day ahead.
Getting Ready for their wedding at the Shard
Having relaxed with friends in the West End the night before, Tony and Adam got ready for the ceremony together, helping each other with preparations in readiness for their big day. For me, this was one of the most touchingly affectionate and special times of the whole day, and I felt privileged to share these exclusive moments.
Surprise!! We're actually getting married at The Shard!
Their friends had gathered in the Gong Bar on the 52nd floor, excited about the birthday celebration that they thought they were attending. Only two of their friends, Paul and Matt, had been entrusted with the real reason for the gathering and had been helping with the preparations. So, when Tony and Adam suddenly announced that they were actually getting married in just 30 minutes, they were met with gasps and cheers of amazement from the astonished company. Everyone was completely thrilled for them; excitement levels went through the roof, and the feeling of love in the room was palpable.
The Shard's wedding coordinator (and part-time 'Bond girl') Jess helped guests pin their button holes by Laura Kuy Flowers. The wedding ceremony was held in the stunning Li Room of the Shangri-La Hotel at The Shard. Despite the breathtaking views across the London skyline, Tony and Adam only had eyes for each other as they exchanged the vows they had written for this moment. Their friends shared wholeheartedly in the emotion of the ceremony, and their joy for Tony and Adam was plain to see.
I've since photographed weddings across the city, including an Old Royal Naval College wedding and a wedding at the Corinthia Hotel, and the views always leave me speechless. After the ceremony, the happy couple and their guests enjoyed a drinks reception in the atrium, the whole party still on such a high from the surprise wedding.
With the benefit of a glass or two of bubbles to ward off the London rain, we all braved a short walk along the South Bank to London Bridge for a creative couple's photoshoot against the backdrop of the brightly-lit nighttime city. This was another part of the day which really stood out for me. Tony and Adam are so in-tune and gentle with each other, and this was a unique chance to capture those first beautiful, euphoric moments between them as a married couple.
The Shard Wedding Photographer
Returning to The Shard, and over a rather delicious meal, we heard some beautiful and sincerely heartfelt speeches as the couple spoke with great warmth, humour and love about each and every person in the room.
Tony and Adam had put such care and thought into every detail of their day. Even the stunning wedding cake was a representation of the London skyline.
Then it was time to party! Tony and Adam led the way, and it wasn't long before everyone was throwing their best shapes to some iconic tracks including that classic party hit, New York, New York. It was a jubilant, emotional wedding, full of love and suffused with personality.
Keen travellers Tony and Adam continued the celebrations with an epic "hubby-moon" adventure to the Far East – what a fantastic and fitting start to their married life! I certainly feel very lucky to have been a part of it and to photograph this intimate and joyful wedding at The Shard.
Lovely words from Tony and Adam
Tony & Adam were kind enough to send me this beautiful reference after their wedding at the Shard
"When organising a wedding everyone always tells you what to do and has an opinion on what you should do. The initial advice is to book a venue, registrar, and photographer asap. This is good advice but which photographer? There was no question we had to have Rich Howman after we saw the pictures that he had done for our friend's wedding.
"To be honest we had not appreciated how important it was to get the right photographer. When planning the wedding you go into a whirlwind of tick lists and must-haves. We were fortunate that we had no one telling us what we should or shouldn't do for our wedding because none of the guests knew it was a wedding that they were attending. They believed it was a 50th birthday party. When we had our initial chat with Rich he was beyond excited at the thought of this surprise. We knew after this 'getting to know you' chat that we had chosen the right photographer.
"On the big day, Rich arrived before we started getting ready and he immediately put our minds at ease discussing the logistics of the day. We have all been to weddings where there has been a bossy photographer who does the "usual" pics of family and friends. Rich is the polar opposite of this – he is almost a guest at the wedding who just happens to have a camera that captures every special moment.
"Your wedding is truly the best day of your life and therefore there is high emotion throughout the day. We are not sure how he did it but Rich was able to freeze-frame these precious moments with every picture telling a part of the story of the day. All of our guests were relaxed by Rich allowing him to capture the big surprise, the tears, and the laughter of our day. In addition, he was able to include the stunning backdrop of our venue of the Shard and the London skyline without it overshadowing the emotion of the day. He managed to do all this, which we imagine is technically challenging, with a charm that all of our guests found endearing. The highlight of the day was the trip to ground level outside of the Shard and to London Bridge to do group shots and special couple shots despite the February wind and rain! Rich did not mention he has a fear of heights, not ideal when we kicked the day off in Western Europe's highest bar yet he said nothing on the day – a consummate professional when the aim is getting the perfect shots for the client.
"We would not hesitate in recommending Rich Howman for capturing your wedding or any other special event if you want stunning, captivating, and Hollywood-esque pictures. Truly an oscar winner of photographers. If you want ordinary, humdrum or run-of-the-mill pictures then go elsewhere."
Adam and Tony, Wedding at the Shard in London.
Getting married at the Shard?
I would love to join you for your wedding at the Shard, please do get in touch and we can start making plans! You might also want to check out a lovely intimate wedding that I captured as a Shard wedding photographer in London at Christmas time – it's just incredible there all year round!